Joby unveils new Gorillapod Magnetic and Ballhead X for photographers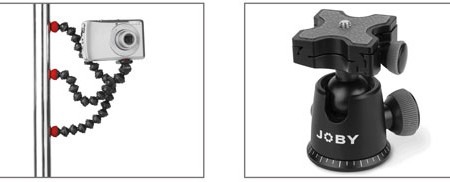 A few months back I spent some time playing with the Joby Gorillatorch flashlight. The Gorillatorch is a flashlight that is attached to a tripod with three magnetic feet. The thing is fantastic and puts light just where you want it without you having to hold it, assuming there is metal around. Joby has now announced similar tech for cameras called the Gorillapod Magnetic.
The Gorillapod Magnetic looks like the same basic articulating tripod with magnetic feet that the Gorillatorch uses. The new tripod can stick to any metal surface the user can bend the legs to get a nice level image. The legs can also be wrapped around objects just like the original Gorillapod. The Gorillapod Magnetic can hold cameras weighing up to 11.5 ounces and will ship in April.
Joby has also unveiled a new Ballhead X for the Gorillapod Focus. The new head is the latest for the Gorillapod Pro line and can support 11.1 pounds. The head allows fluid pan and tilt motions and is strong enough for professional DSLR cameras. The device is made from anodized aluminum, weighs a bit over nine ounces and is 3.3-inches tall. It will also ship in April.