Joby MPod And GPod Mini Tripods Are Designed For Lightweight And Flexible Photography

Joby, maker of the GorillaPod, has introduced the MPod Mini Stand and the GPod Mini Magnetic, two small and flexible tripods that are designed for compact digital cameras and smartphones. Both are now available in the US from Joby's website, with the smartphone-based MPod Mini and the Magnetic GPod being priced at $14.95 USD.
The Joby GPod Mini Magnetic is, as its name suggests, a magnetic tripod said to have been inspired by the original GorillaPod. The feet of the tripod are fitted with small magnets that allow photographers to mount it on metal surfaces. The GPod is being targeted towards compact digital camera and action camera owners, such as the GoPro, and perhaps more awkwardly shaped models like the Sony Action Cam.
Then there's the Joby MPod Mini Stand, a small tripod designed for use with smartphones. The design is universal to increase its likelihood of working with whatever smartphone the buyer owns, and can fit sizes that range up to the large Galaxy Note handset. The legs are likewise flexible. Both cases are said to weigh less than 2 ounces.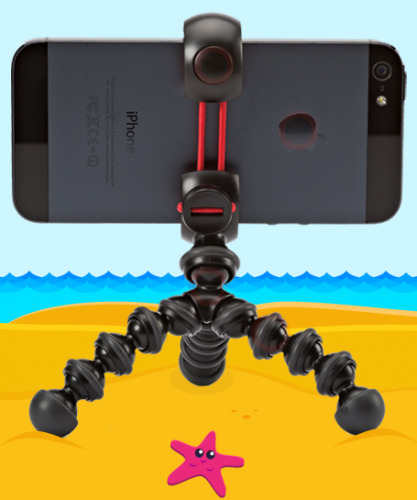 Said Joby's Director of Product Design and Management Michael Jue: "Our mini accessories were designed for the convenience and creativity of today's spontaneous point-and-shoot and action video camera users, as well as smartphone users who use their devices to shoot images and enjoy media. The new tripod stands support consumers as they use their technical tools to get creative with their photos and videos."
SOURCE: Joby