Joby Gorillamobile For iPhone 4 Lets You Take Better Pics And Video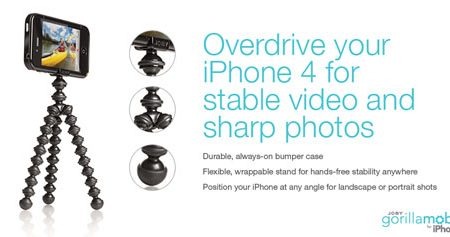 I am a huge fan of the Joby line of gear that bears the gorilla name. The company has flashlights and all sorts of tripods for cameras and mobile phones. The key feature to all of the gear is the articulating tripod that can wrap around just about any item you want to hold your gear in place. Joby has added a new item to its line up called the gorillamobile for iPhone 4.
The product features a bumper case that you leave on the iPhone at all times to prevent it from being damaged in a drop. The bumper case is designed to connect quickly to the connector on the gorillamobile tripod. The device also comes with an extra universal camera adapter clip allowing you to mount small digital cameras.
The tripod can hold a maximum weight of 12.3 ounces and is made from polycarbonate with TPE rings. The case for the iPhone 4 weighs 0.4 ounces, the extra clip weighs 1.7 ounces, and the stand itself measures in at 4.8" x 2.6" x 0.5". The stand and case are intended to let you take better photos and video with your iPhone 4 while on the go or in the home. The gorillamobile for iPhone 4 is available right now for $39.95.