JOBO AG 7-Inch Photo frame only displays images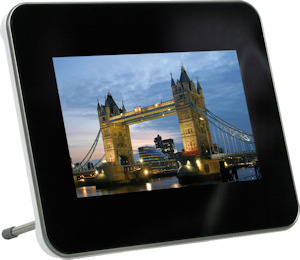 More digital picture frames, what's new? Like USB thumb drive, this digital frame gimmicks are slowly turn into commodity items, but its functionality has greater use and supports a variety use of multimedia playbacks from displaying videos, images, clock, calendar, email to playing music.
You've seen plenty of Chinese-based frames, here's one with German's engineering- Jobo PDJ077, a 7-inch digital photo frame with modern accent and emphasis on image quality.
The stylish and sleek looking Jobo packs a high quality 800x480 screen resolution display with 400:1 Contrast and adjustable brightness up to 230 cd/m2. The frames supports memory cards from CF, SD, SDHC, MMC to MS and the supplied remote control can be used to navigate image slide show and frame functions conveniently. German quality doesn't come cheap, this one will set you back $99; a hefty Benji for a digital frame that does only images.