Jim Carrey Makes Sonic Movie Trailer A Must-View Oddity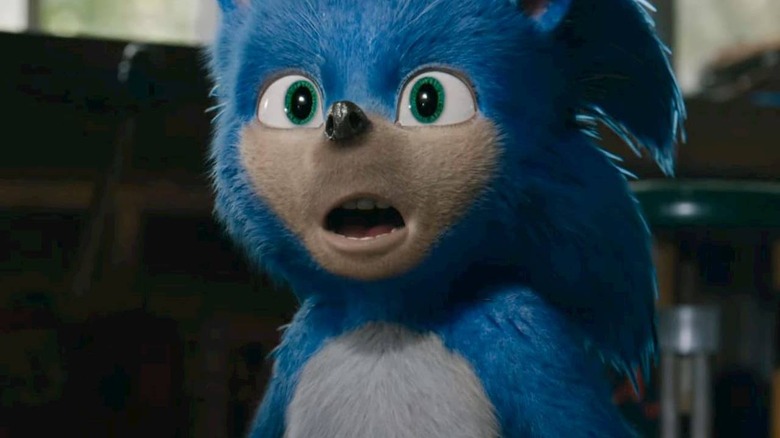 Sonic the Hedgehog is one of the longest-running video game franchises around, but despite that longevity, the series has taken it's share of missteps through the years. Is the upcoming live-action Sonic the Hedgehog movie going to be one of those missteps? It's too early to make that call, but the first trailer for the flick has landed and the reactions to it are probably going to be mixed.
If you're one of the folks who had a negative reaction to Sega's leaked marketing materials for the movie, prepare to have the same reaction to this trailer. Sonic looks more or less the same as he did in those leaks, and that design has been at the center of a lot of debate. Some hate it, fewer seem to love it, and many more just seem to be confused.
In any case, not only does the trailer finally give us a good look at the titular character (voiced by Ben Schwartz), but it also introduces us to Green Hill sheriff Tom Wachowski, played by James Marsden. The two characters will apparently be working together to stop Dr. Robotnik's plans for world domination, with Jim Carrey taking on the role of Sonic's age-old nemesis.
For most of the trailer, Robotnik looks like a normal human man with a fancy handlebar mustache – a far cry from his appearance in the video games. At the end of the trailer, however, we get a brief glimpse at more familiar look for Robotnik: bald, clad in red, and sporting his trademark, ridiculously bushy mustache. It seems that Robotnik is a man of humble origins, with his early encounters with Sonic the Hedgehog turning him into the madman we're more accustomed to.
So, there you have it. For better or worse, Sonic the Hedgehog now officially has a trailer. We'll reserve judgment for now, but feel free to head down to the comments section and tell us what you think. Sonic the Hedgehog is out in theaters on November 8, 2019.