JHAudio 10X3, 11, 13 & 16 PRO Series Audio Monitors Now Available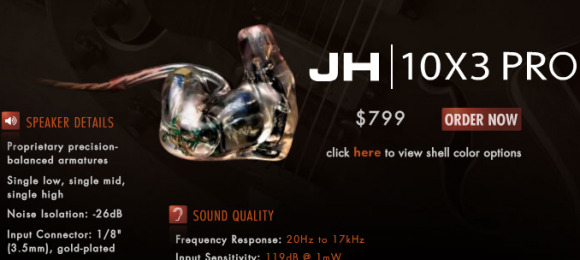 Want to experience the same audio quality that is already trusted by professional musicians and rock Gods worldwide? Feel like your in-ear headphones, or even your over-the-ear ones, just aren't cutting it in the sound quality and accuracy? Then JHAudio has you covered. They've just made it known that their JHAudio PRO Series of in-ear audio monitors are available for everyone, so you can now experience the music from your favorite MP3 player with these little beasts.
JHAudio is covering all their bases, as they've released not one pair of audio monitors, but four different variations. JHAudio is confident in their in-ear audio monitors, saying that the custom-fit, in-ear monitors deliver the best quality and best accuracy when it comes to enjoying your music. They also offer up the best clarity, as well as more effective noise isolation than any other audio monitor on the market. And if bands like Aerosmith, Lady Gaga, Linkin Park, and Guns 'N Roses praise them, then they must be good.
Each of the four different models all share the same design, and have some of the same features. For example, you'll find JHAudio's proprietary precision-balanced armatures and integrated three-way crossover, which should help in reducing distortion, and help in that top-notch delivery of sound quality. The audio monitors also offer up to -26dB, which should help in the reduction of background noise.
All four models are available right now from the company's site. The JH 10X3 has a retail price of $799. The JH 11 will cost you a cool $850. And the JH 13 and JH 16 will run you $1,099 and $1,149 respectively. Check out the full press release below.
Press Release
JHAudio PRO Series In-Ear Monitors Deliver Rock-Star Sound Quality for iPods, MP3 players

Custom-Fit In-Ear Monitors Deliver Unsurpassed Audio Clarity and Accuracy; Audiophiles and Music Lovers Praise the Exceptional Quality and Noise Isolation Trusted by Rock Gods and Professional Musicians around the World

Apopka, Fla.—Audiophiles and music lovers can now experience the same unsurpassed audio quality and sound clarity for their iPods and MP3 players that is already trusted by professional musicians and rock gods worldwide. The JHAudio PRO series custom-fit, in-ear audio monitors deliver the most accurate sound quality, greater clarity, more effective noise isolation and better comfort than any other in-ear audio monitors on the market.

Revered by the likes of Aerosmith, Guns 'N Roses, Lady Gaga, Linkin Park, Alicia Keys, Barry Manilow and many other professional musicians, the JHAudio PRO series leverages the company's signature proprietary design to incorporate an unprecedented number of audio drivers in a small, comfortable device. The resulting sound quality and noise isolation properties enable music lovers to experience never-before-heard sound from their favorite tunes, without the risk of hearing damage from hi-volume listening.

"Everyone who tries our products is absolutely blown away by the new sound elements and audio levels they hear with our PRO series even from music they've listened to a million times before," said JHAudio founder and audio pioneer Jerry Harvey. "Listening to music through the PRO Series is like sitting right there in the studio mix down room with the sound engineer."

Each model in the PRO series features JHAudio's proprietary precision-balanced armatures and integrated three-way crossover to reduce distortion and deliver more accurate sound quality. Noise isolation of up to -26dB reduces background noise for greater sound clarity without increasing the volume to prevent hearing loss that often results from loud music. The three-way PRO series is available in four models, each custom-fit and tuned according to the customer's unique ear shape and auditory anatomy for extreme comfort and superb sound:

· JH|10X3 PRO offers a single low, mid and high range driver, a frequency response of 20Hz to 17Hz and retails for $799;

· JH|11 PRO features dual low drivers with a single mid and high range, frequency response of 10Hz to 17 Hz and retails for $850;

· JH|13 PRO is the world's first-ever six-driver in-ear monitor that features dual low, mid and high range drivers on board, a frequency response of 10Hz to 20kHz and retails for $1099;

· JH|16 PRO is the only 8 driver in-ear monitor on the market, featuring double dual lows, single dual mid and single dual high drivers, a 10Hz to 20 kHZ frequency response range and retails for $1149.

"Not only is the sound quality unprecedented, but the PRO series is designed to be exceptionally comfortable," Harvey said. "They're custom fit to stay put and built to withstand the head-banging, over-the-top, soaked-with-sweat on-stage performances of professional performers."

The durability and reliability of the PRO series makes it ideal for nearly any consumer use, including motorcyclists, travelers, adventure sports enthusiasts and more. Customers who order the devices visit a professional audiologist who takes an impression of their ear canal. The mold is then sent to JHAudio, which designs the shell piece to precisely match the mold for a truly custom fit. Shells are available in clear and 50+ other custom colors for an added personal touch.

A long-time audio pioneer, Harvey has worked as a sound engineer with some of the music industry's most recognized performers, including Van Halen, David Lee Roth, k.d. lang, Engelbert Humperdinck and Linkin Park. The founder and former chief designer at Ultimate Ears has led innovation in the development of earphones and audio circuits since 1995.

JHAudio's signature JH|13 PRO is the subject of the single longest running thread the history of Head-Fi.org, one of the largest online forums for personal audio listening gear. The JH Audio JH-13 PRO appreciation thread features more than 5,000 posts since starting in June 2009.