JetBlue and Apple to bring Apple Pay to select flights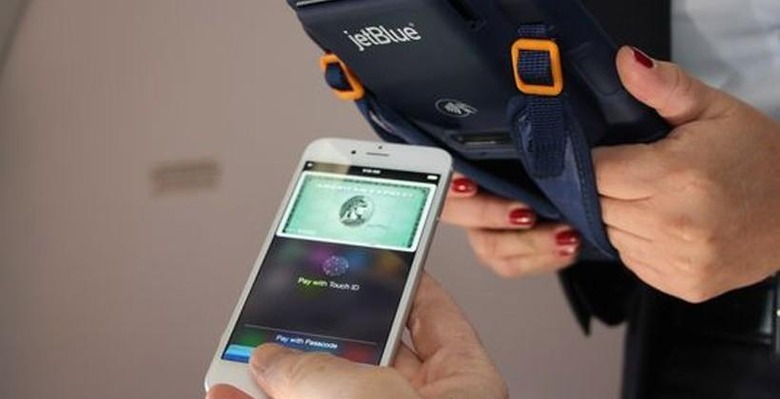 Apple and JetBlue have announced that they have teamed up to bring a new payment method to select flights that will make it easier for passengers to pay for seat upgrades and snacks on flights. Apple Pay will be coming to select JetBlue flights to let passengers pay using their iPhone 6 and 6 Plus smartphones. Apple Pay can be used to purchase food, drink, and other onboard amenities.
Presumably, other amenities means stuff like headphones and WiFi, but those other amenities aren't exactly spelled out. Passengers in cramped coach sections will also be able to use Apple Pay to upgrade to roomier accommodations as well.
The aircraft does have to reach cruising altitude before passengers can use Apple Pay, but food and drink carts don't roll down the aisles until cruising altitude either. Paying with Apple Pay and your smartphone is certainly faster than having to dig out a wallet in cramped seats or a bag under the seat or in overhead bins.
In April when Apple puts its Apple Watch on sale, JetBlue passengers will also be able to pay using the smartwatch. Accepting Apple Pay means that JetBlue is upgrading their mobile payment terminals with special iPad mini tablets and NFC capable cases that will accept both Apple Pay and normal credit cards. JetBlue and Apple will launch Apple Pay in the skies in Q3 2015.
SOURCE: USA Today