Jeremey Clarkson tweets pic of new Amazon show production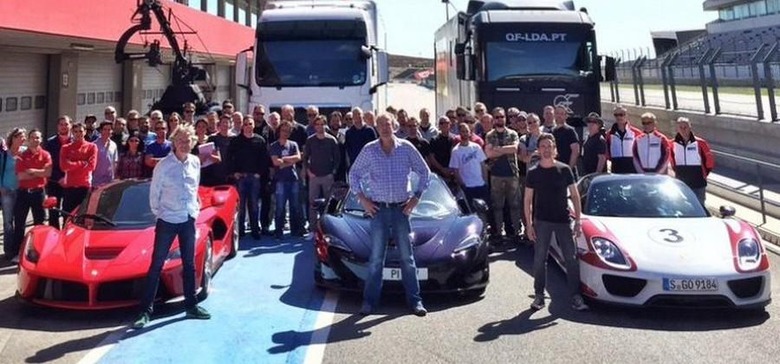 Fans of the Top Gear of old with Jeremey Clarkson, James May, and Richard Hammond were upset when the BBC fired Clarkson and the other two hosts went with him. Fans were all glad to hear that Amazon had picked the trio up for a new car show. While rumors have swirled that the show would be called "Gear Knobs", we still don't know the title for sure.
Clarkson has now tweeted a pic from the set of the new show noting that production is underway. Behind the trio are some very cool cars including a Ferrari, a Porsche, and what appears to be a McLaren.
With a skeleton crew, filming for Amazon Prime's new motoring programme has begun. pic.twitter.com/8PaYvke5il

— Jeremy Clarkson (@JeremyClarkson) October 7, 2015
Clarkson said in the tweet that production was under way with a skeleton crew, which appears to be sarcasm since there is a huge group of folks standing in the image. It's unclear exactly when the show will kick off.
All we know right now is that the series will air sometime in 2016. Fans around the world are hoping that the air date is in early 2016. We are watching out for more news on this as it develops, we are dying to see what Clarkson and the gang will get up to and if they can recreate that TopGear magic.