Jeep Wrangler JK carries on for 2018 model year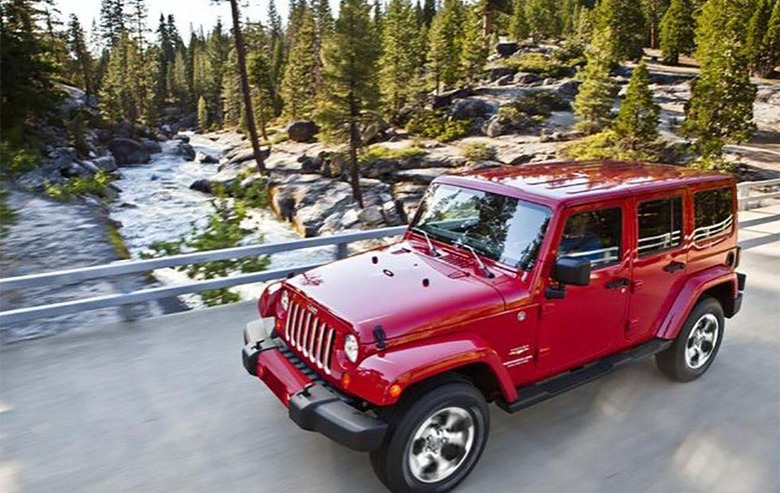 At this point everyone who knows about the Jeep Wrangler knows that there is a new, redesigned Wrangler coming. That new Wrangler JL was expected to bow in for the 2018 model year. However, the 2018 Wrangler has been unveiled and as it turns out the Wrangler JK will continue on. This has the Jeep faithful scratching heads wondering what Jeep is up to.
What we know about the 2018 Wrangler is that all models get the Wrangler JK sticker on the front quarter panel. This has led to some speculation that perhaps the current JK will continue on alongside the next generation Wrangler dubbed JL. It might also mean that Jeep is planning to roll out the JL mid-way through the 2018 model year. We have seen leaked photos that appear to show the Wrangler JL on the assembly line.
The only updates to the 2018 Wrangler JK come in the form of new special edition models that include one called Golden Eagle, Freedom Edition and Altitude. The Freedom Edition is military themed with oscar mike fender badged, body color flares, rock rails, steel off road bumpers front and rear, and more. The Golden Eagle models have a tan soft top and available tan half doors along with special Golden Eagle badges.
The wheels on that model are 17-inch Bronze units and inside the Golden Eagle versions get black seats with bronze stitching, a body color grille, and fender flares with bronze accent. Jeep is bringing the Altitude model back for 2018 with a power bulge hood, body color hardtop standard, and other touches.
The Wrangler JL is expected to debut around the LA Auto Show in late November. That Wrangler is expected to offer three different engines including a turbo four 2.0 engine, 3.6L V6, and a 3.0L EcoDiesel V6. It would be interesting if Jeep sold the Wrangler JK alongside the Wrangler JL with the JK being a lower priced model. Nissan did this with the Rogue Select selling alongside the new Rogue and found success.
SOURCE: FCA