Jeep unveils 2018 Grand Cherokee Trackhawk with 707hp Hellcat engine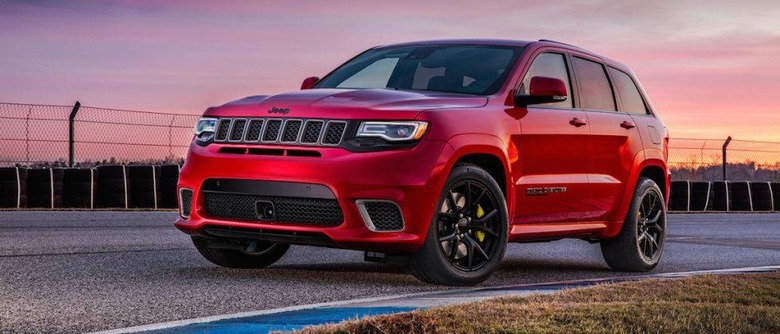 The most powerful SUV from Jeep has finally been announced in the form of the 2018 Grand Cherokee Trackhawk. The all-wheel-drive monster is powered by none other than Dodge's SRT Challenger Hellcat engine, meaning it sports the same 707 horsepower as the sedan, along with 645 pound-feet of torque. The Trackhawk will be presented at this week's New York auto show, but details and photos can be found here.
Jeep is eager to tout that the Trackhawk has the same 6.2-liter supercharged V8 engine as the Hellcat, with the only difference in specs being 5-lb-ft of torque less for the SUV. There was concern the engine would need to be tuned down in order to be compatible with the Grand Cherokee's AWD system, but Jeep managed to get away with making a few small adjustments to keep everything as pure as possible.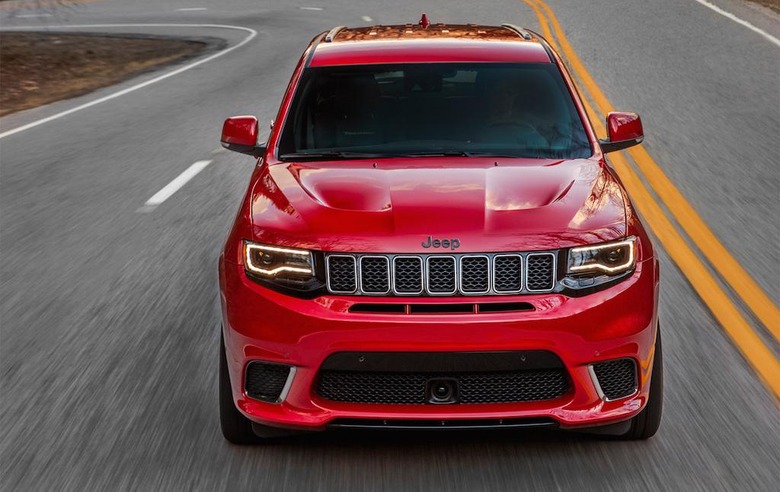 The Hellcat engine gives the Trackhawk bragging rights for a number of other feats, namely a 0 to 60mph time of 3.5 seconds, a top speed of 180mph, and a quarter-mile time of 11.9 seconds. Pretty impressive for a 5,363-pound SUV.
For those who are thinking of using the Trackhawk for actual SUV duty and not just as a track beast, it fortunately has some things in common with its less powerful sibling, the Grand Cherokee SRT. This includes the ability to tow up to 7,200 pounds, while the eight-speed Torqueflite transmission is paired with an AWD system that has auto, sport, track, tow, and snow modes.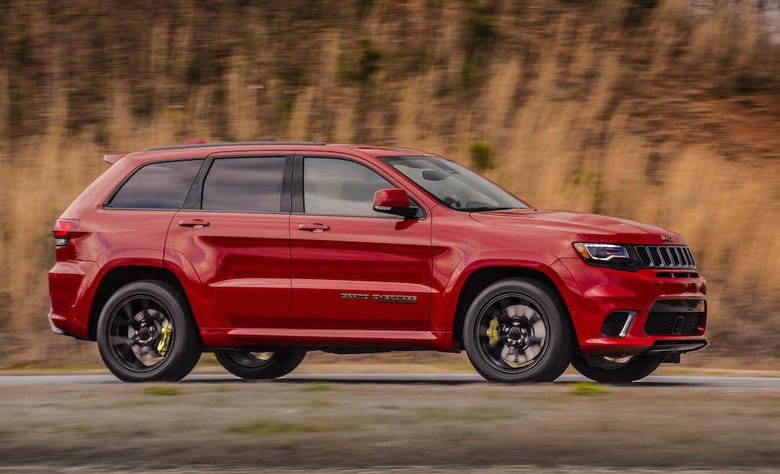 Brembo brakes are another upgrade for the Trackhawk, with 15.75-inch rotors on the front and 13.78-inches on the back. Jeep says this allows the SUV to come to a complete stop from 60mph in just 114 feet. And just like the Hellcat, there is a valet mode that drops the power down to the levels of a V6 Grand Cherokee.
The exterior borrows much of its looks from the Grand Cherokee SRT, but the interior has been tweaked with a center-mounted tachometer on the stitched leather instrument panel, a 8.4-inch infotainment system that tracks and displays performance stats, heated seats covered with Nappa leather and suede trim, and options to outfit the cabin with black or dark ruby red leather.