Jeep unveils 2014 Grand Cherokee SRT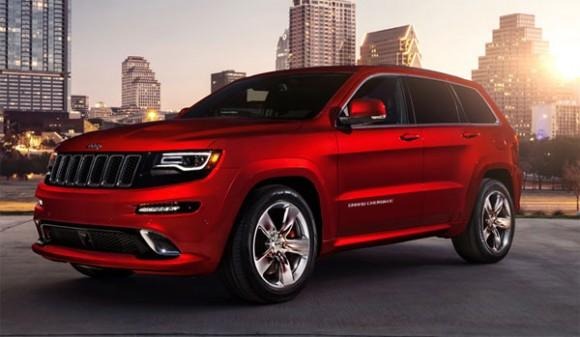 Jeep has unveiled a refreshed and revised 2014 Grand Cherokee SRT. The Grand Cherokee SRT is a combination of sports car and SUV. For 2014, the Grand Cherokee SRT uses the 6.4-liter Hemi V-8 engine producing 470 hp and 465 pound-foot of torque. That engine is mated to a new eight-speed automatic transmission.
The new engine and transmission helps increase the towing capacity of the SUV to 7200 pounds, which is a 44% improvement over the 5000 pound towing capacity of the 2013 and earlier model Grand Cherokee SRT. Jeep says the new eight-speed automatic transmission is engineered to optimize shift quality and shift points for fuel economy, performance, and drivability.
The 2014 model also features an Eco-Mode that optimizes the transmissions shift schedule to help save fuel. The engine also deactivates four cylinders when full power isn't required. The 2014 model also has an improved and retuned Selec-Track system to deliver more torque to the rear wheels in Track Mode to optimize rear-wheel drive characteristics.
The vehicle also comes standard with one control and has an upscaled interior with new LED lighting. The vehicle also features an 8.4-inch touchscreen and a seven-inch programmable multiview gauge cluster. The car also features Uconnect to sink with smartphones and more. Pricing and availability information are unknown at this time.