Jeep teases Jeep Performance Parts limited edition Wrangler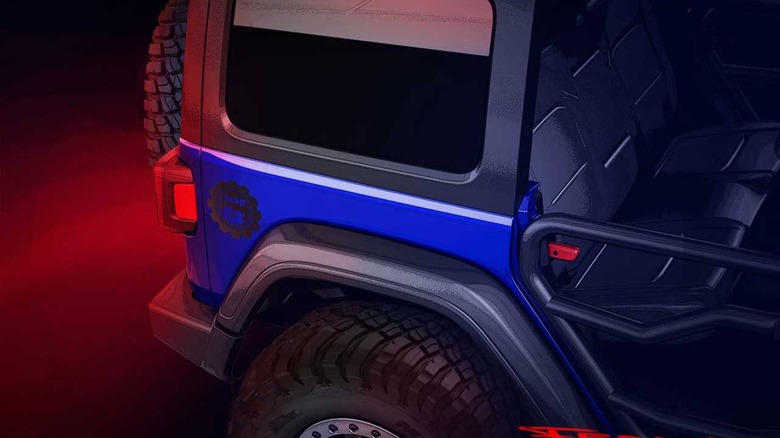 There are all sorts of aftermarket accessories offered for Jeep brand vehicles. The new Gladiator has a wealth of them, as does the Wrangler. There are parts for other models, but the Wrangler is one of the most modified vehicles on the automotive market by owners. At the Chicago Auto Show, Mopar will showcase a special edition Wrangler.
The vehicle is the Jeep Performance Parts (JPP) limited edition. The partial image is seen above, which is an artist drawing, highlights what appears to be the rear door and rear fender from a Jeep Wrangler Unlimited, the 4-door version of the Wrangler.
Jeep also notes that Mopar offers more than 200 Jeep Performance Parts that have all been quality-tested along with accessories that are all designed and engineered for off-road performance enthusiasts. As for what the JPP limited edition will feature, we don't know for sure.
What we see in the image is a set of tube doors of the sort that are commonly used for style and additional safety when the full doors are removed from the Jeep. We also see that the Jeep is rolling on a set of bead-lock wheels that are likely part of the package.
It would be a safe bet that a JPP limited edition Wrangler would also feature a lift of some sort and perhaps larger tires and a winch capable front bumper. Jeep offers steel bumpers already that are winch capable. Prices for high-end Wranglers are very high; we'd expect this JPP limited edition to be a costly model.
We are looking forward to the Chicago Auto Show to see if the vehicle will be a production ride and how much it will cost. The Chicago Auto Show opens on February 8 and goes through February 17; it's unclear what day of the show the unveil will happen.