JBL's New Personalization Option Lets Buyers Print Photos On Speakers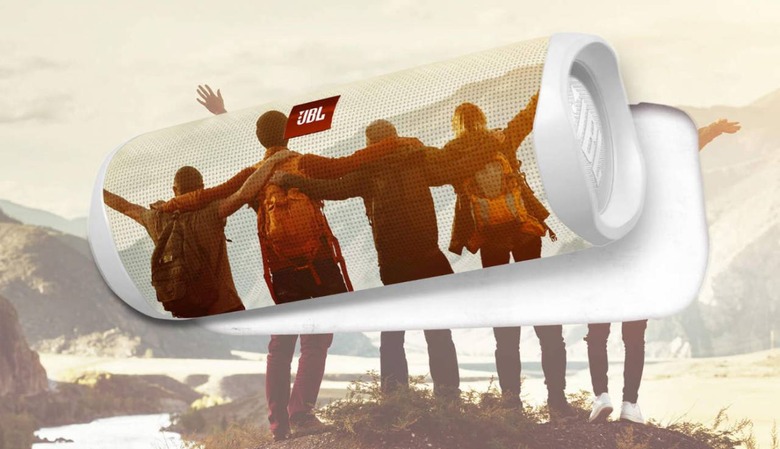 Audio company JBL has introduced a new personalization option that allows buyers to have their favorite image printed on the grill of the speaker they're purchasing. The personalized result is very photo-realistic, though with the obvious grille effect added into the mix. The same personalization is also available for headphones, though limited to text and select designs.
Personalizing products is a great way to make them feel unique, but doing so usually requires third-party services and vinyl cutouts. Buyers wanting something a bit more immediate and permanent on their new speaker or headphones can take JBL up on its direct personalization feature, which is available on the JBL Flip 5, Live 650BTNC, Clip 3, and Go 2.
Buyers can choose to have an image, text, or a design printed on the speaker grille; the headphones are slightly more limited, only supporting some custom designs and text, but no photo printing. The personalization takes place directly on the order page for the products listed above — users just click "Grille" and then choose which of the three design options they want to personalize.
Images can be uploaded directly from the user's computer; text includes customization for things like color, scale, font, and horizontal/vertical orientation. The company provides some examples of ways someone may use this feature, such as by putting a picture of their pet on the product. Shipping for a personalized product takes 5 to 7 days.
It's a fun way to customize a product and make sure they fit your style, but there is a potential downside to putting images of yourself or other people on the speakers: lower resell value. If that's not a concern for you, the personalization option is live on JBL's website now for US customers; it'll arrive in other regions starting next year.