JBL On Stage Micro II Review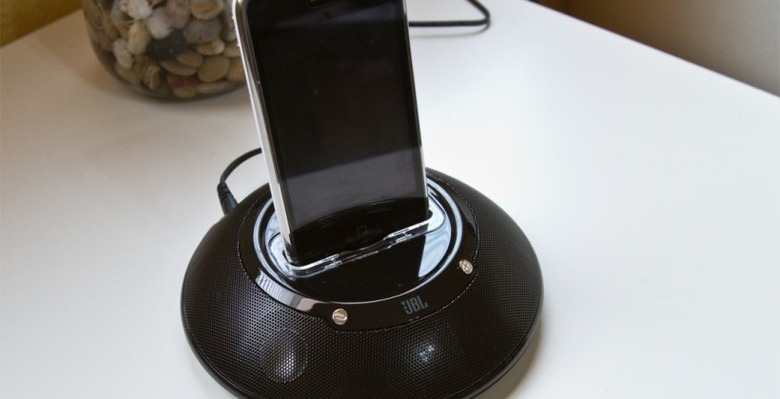 In a world near-saturated with iPod docks, JBL still managed to carve a niche with their diminutive On Stage Micro. The battery-powered portable speaker system is now around three years old, and JBL have updated it in the shape of the On Stage Micro II. Fresh to the spec sheet is iPhone compatibility but, more importantly perhaps, JBL reckon they've worked wonders on the audio quality too. Does this iPhone speaker dock's musical prowess belie its compact form? Check out the full SlashGear review after the cut.
In terms of appearance, the On Stage Micro II looks little changed from its predecessor. A compact, low-profile disc – finished, in our review model's case, in glossy black plastic and a black mesh speaker grill – hardware controls are limited to volume up/down keys on the front and a power button on the back. On the underside is a battery compartment, taking four AAA batteries – which should last for up to 24hrs solid use, volume depending – though JBL also supply a wall-wart AC adapter which plugs into a port on the back. Other connectivity includes audio in, for plugging in a third-party PMP or audio source, audio out for hooking the iPod/iPhone up to some beefier speakers, and a Mini USB port for linking your PC or Mac.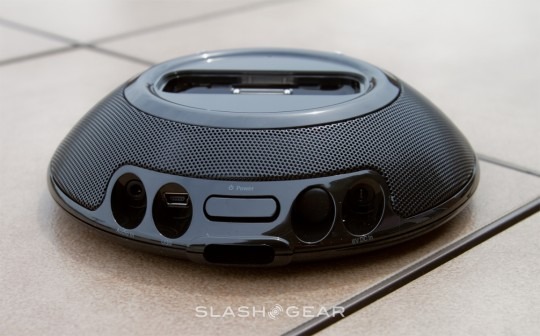 With the latter in place, the On Stage Micro II can be used to sync your iPod or iPhone as if you'd directly connected the regular sync cable, and the dock becomes a handy place to recharge the PMP and load new content. There's also a bundled infra-red remote control, a relatively simple affair, with volume, playback and menu navigation keys. The only thing missing is a video out port, for hooking up a TV and playing back video content. JBL provide various dock adapters that slot into the top section and leave it suitable for your iPod nano, touch, classic or iPhone.
Of course, the last-gen model could do all of that, the only change being native support for the iPhone (original, 3G and 3GS). We were most interested to see how JBL's audio changes might have affected sound quality, and happily that's where the biggest improvement in the On Stage Micro II hides.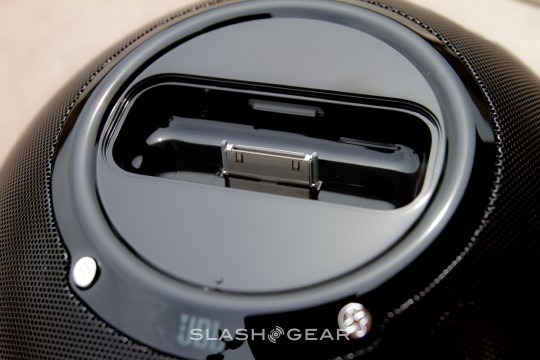 The first-generation Micro lacked bass, unsurprisingly, but it also fell short in terms of mid and treble clarity. Higher volumes introduced more distortion than average, and the overall feeling was that, while the setup was portable and convenient, for audio quality buyers should look elsewhere. With those expectations, the Micro II turned out to be a real surprise. Bass is never going to be the forte of a compact system like this, but it's a real step up from what the previous version could deliver. Meanwhile mids and trebles have a clear, piping quality that feels better balanced and altogether more musical, thanks to JBL's new Odyssey transducers.
To be blunt, JBL have taken our key criticisms of the first-gen model and addressed them in turn, while keeping the speaker dock's compact appeal. Of course, if you're looking for the best audio output from your iPod or iPhone there are other, larger – generally more expensive – systems out there you should look to instead, but they're far less likely to drop comfortably into your bag or briefcase. At $99 it's affordable, too. If you can't sacrifice either space or sound, then the JBL On Stage Micro II should definitely be on your audition list.