JBL announces new On Tour iBT Bluetooth speaker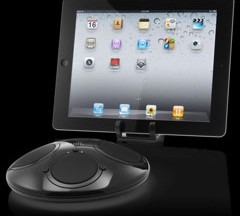 If you are an iPad or iPhone fan that likes to listen to your music on a speaker that actually sounds good there are a bunch of options on the market today. JBL has a new speaker that has just launched called the On Tour iBT that will connect to your iPad or iPhone. It will also work with any other BT device that supports A2DP.
The speaker is round and is sized for portability and use on the go. It has a little stand as well that will hold the iPad and other devices in portrait or landscape mode. It sports 360-degree sound and has full-range neodymium transducers with computer optimized digital signal processing. The speaker also supports AVRCP Bluetooth profiles.
Other features include a mic to allow it to be used as a desk phone. Power for the speaker comes from an external adapter or four AA batteries. It will charge the iPhone or iPad when connected to the wall using an integrated USB port. The speakers sells for $150 and is available now.
[via iLounge]