Japan is getting new Star Wars smartphones from SoftBank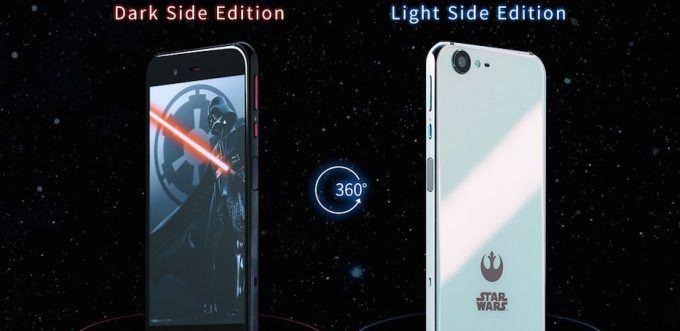 A new Star Wars movie is coming out soon, so that means lots of tie-in merchandise. And few countries love big-name brands and media properties more than Japan. Put the two together and it means Japan is getting exclusive Star Wars-themed smartphones in celebration of the release of Rogue One: A Star Wars Story.
The phones are being offered by Japanese mobile carrier SoftBank and will be released on December 2nd. There's two colors available (black and white), which obviously means they're billed as Dark Side and Light Side editions, allowing customers to choose which side of the Force they want to carry in their pocket or bag.
Manufactured by Sharp, the devices clearly fall in mid-range Android territory: they feature a 5.3-inch 1080p IGZO display and are powered by a Snapdragon 820 processor with 3GB of RAM. There's 32GB of built-in storage with microSD support, a 3,000mAh battery, a 22.6-megapixel camera, and a TV tuner, with the latter being no big deal by Japan's standards.
But in order to be a special edition Star Wars-themed device it needs exclusive Star Wars goodies. That's where the software comes in. The phones will coming running a unique Android 6.0 skin in both Light and Dark Side versions, feature live wallpapers designed like the cockpits of the X-Wing or TIE fighter, and come with the Star Wars: Force Collection card game pre-loaded.
If that's not enough, there's a special Star Wars Movie Player app that will let users stream The Force Awakens on the device for free until the year 2020. There's also Star Wars-themed emoji, ringtones, and alarm clock app, and five exclusive metal Rogue One figurines are thrown in the box for good measure.
SOURCE SoftBank