Jamo A 804 wall-mounted surround sound speaker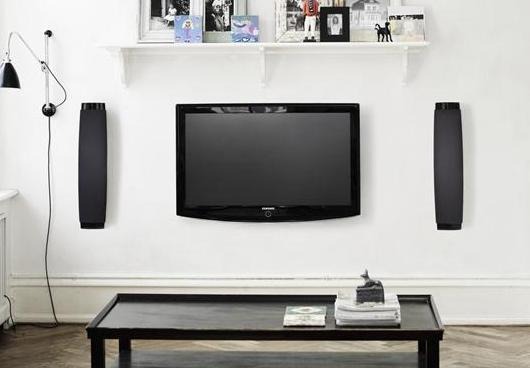 Jamo have announced their latest wall-mounted speaker, the A 804, which the company claims is designed to be used at any corner of a surround sound setup.  Wall-mounted, the a pair of A 804's can be used as a front stereo pair, flipped to act as a center channel speaker, or two placed at the rear.  Each has a bassreflex ported cabinet just 3.9-inches deep.
Lurking inside the leather and high-gloss black aluminum, steel, and high density polymer enclosure are a 0.75-inch silk-dome tweeter with Jamo's proprietary WaveGuide technology, together with a 4.5-inch midrange and two 4.5-inch woofers.  WaveGuide is Jamo's method of shaping the tweeter faceplate to change its sound pattern.
The Jamo A 804 speaker will go on sale in January 2009.  They'll be priced at a not-inconsiderable $449 each, meaning a full five-unit setup would cost you $2,245 before amplification.
Press Release:
Jamo® A 804 Speaker: A Wall-Mounted Wonder

Slim home theater/stereo product offers big performance in a compact, versatile cabinet

INDIANAPOLIS, IN (December 16, 2008) — Why buy separate home theater audio components when one model can do it all—and with much more performance than you'd ever imagine from such a slim speaker?

The versatile A 804 from Jamo combines beautiful contemporary design with the remarkable sound that emanates from its bassreflex ported cabinet. And, because it can be mounted both horizontally and vertically, it works just as well as a center channel as it does when its used as a front left or right—or even rear surround—speaker.

Housed in a beautiful black leather/high-gloss black enclosure that combines aluminum, steel, and high density polymer, the A 804 is just 3.9 inches deep, making it an ideal match for virtually any contemporary flat-panel television.

The A 804 also demonstrates Danish audio design underneath its grille. The .75-inch silk-dome tweeter with Jamo's proprietary WaveGuide technology delivers clean, clear highs, while the 4.5-inch midrange and two 4.5-inch woofers provide stirring midrange and deep, booming bass.

To ensure that the low frequencies carry more punch than typical wall-mounts, the A 804 has flow-optimized dual bassreflex ports.

According to Tamara Douce, marketing manager for Jamo U.S., the A 804's performances are nothing short of amazing. "It really does offer better sound quality than any on-wall speaker at any price due to the bass ports. And, it's so versatile, the A 804 is the only speaker most home theater fans would need."

"We expect the A 804 to be really popular with the ever-growing group of people who want more theater-like sound than current wall-mounted speakers can reproduce," noted Douce. "Plus, with its ease of mounting, anyone can have them up and working in no time—which is always important."

Priced at $449 each (U.S. MSRP), the A 804 is scheduled for release next month.

Jamo A 804 Technology:

WaveGuide: This technology, which involves the shape of the tweeter's faceplate, helps control the sound pattern for a more open and dynamic experience, as well as makes it easier to position the speakers in a room.

About Jamo®

Since 1968, Jamo® has been at the forefront of the acclaimed Danish audio industry, consistently focusing on style, simplicity and functionality when designing its speakers, electronics, control systems and accessories for residential and commercial applications. Operating in more than 80 countries, Jamo also takes pride in how its products seamlessly adapt and integrate into various environments, reflecting the different ways the world listens. Owned by Indianapolis, Indiana-based Klipsch Group, Inc., Jamo is headquartered in Viborg, Denmark. For more information, visit jamo.com.