Jaguar XF Sportbrake tows skier at 117 mph to set world record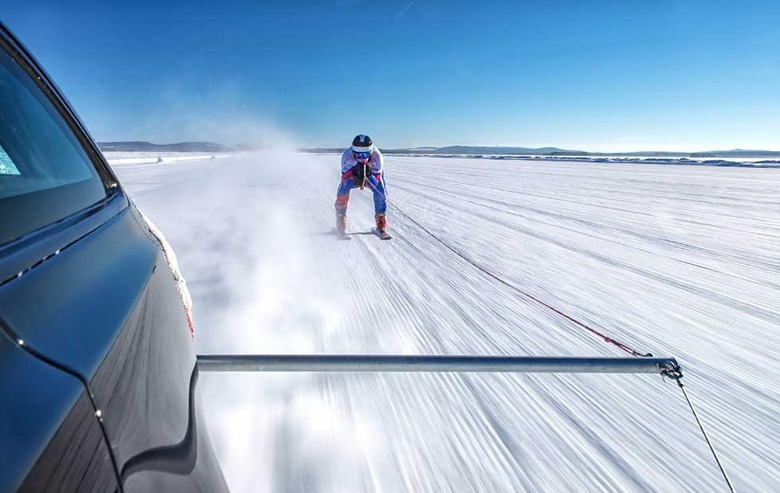 Jaguar teamed up with a former Olympic skier called Graham Bell to set a new world record for the Fastest towed speed on skis. Jag used its sexy wagon called the XF Sportbrake to set the world record. Bell was towed along behind the Jag at an average top speed of 117 mph to set the break the former world record.
The world record was set at the Jaguar Land Rover Revi Test Centre in the Arctic Circle. Temperatures during the feat were -28C. Jag and Bell smashed the previous world record by 47 mph with its average top speed of 117 mph. The XF Sportbrake used to set the record used AWD and Adaptive Surface Response and All Surface Progress Control feature for the car to control grip on the ice and snow.
Power for the XF Sportbrake is from a 3.0L 380PS supercharged gas V6 able to push the car from naught to 60 mph in 5.3 seconds. I can't even imagine how cold it would be being towed outside a car, at 117 mph when it's -28C just standing around wearing nothing but spandex.
This is the same test center where Jag holds the Jaguar Experience Ice Academy. Jaguar Land Rover had been big on breaking Guinness World Records of late. The last record went to the company in September.
In that world record setting stunt a Land Rover Discovery towed a 110-ton Aussie road train across the outback. The vehicle used in that record was a Land Rover Discovery Td6 with a maximum certified towing capacity of 3,500 kg. I think Land Rover might have voided a warranty with that record.
SOURCE: Jaguar