Land Rover Discovery hauls 110-ton Aussie road train across the Outback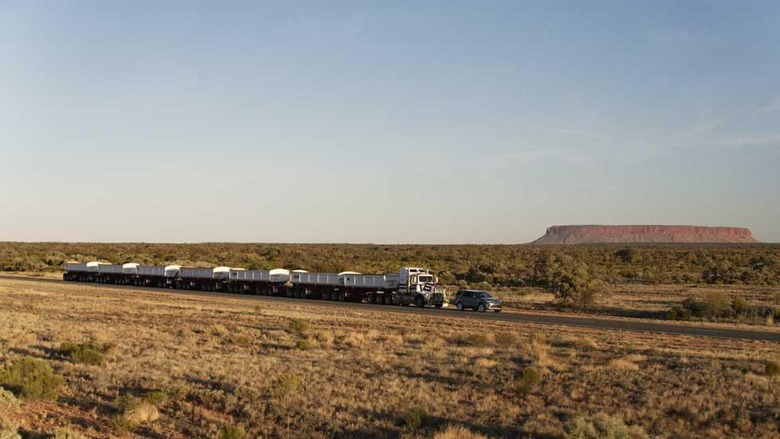 Land Rover wants people interested in the new Discovery to know it can tow a lot of weight. While most Discovery buyers will never tow anything, much less take the capable SUV off-road, Land Rover hooked the Discovery to a 100-meter long road train that weighs in at 110 tons. A road train is a big rig that hauls multiple trailers in its wake, in this case seven of them.
I've never seen more than two trailers being towed along behind a semi in my area and that seems long. The Discovery towed the road train for 16 km along the Lasseter Highway in the Australian Northern Territory. Towing is one of the thing that Land Rover is big on with the Discovery.
The vehicle has slick towing tech called Advanced Tow Assist that helps drives back up with a trailer attached by calculating the steering inputs needed. Land Rover has updated the 2018 Discovery with an available 12.3-inch Interactive Driver display TFT instrument cluster, Air Cabin Ionisation, and a 300PS Ingenium gas engine.
The Discovery Td6 has a maximum certified towing capacity of 3,500 kg on public roads. In Australia the land trains are normally limited to up to four trailers and only ply the roads in the Outback regions of the country. The limits on road train length are strictly 53.5 meters.
To be able to tow the seven trailers and the semi truck required Land Rover to get special permission. That big rig had to be attached to road train because it has the specialized brakes needed to stop the 158 wheels once rolling.
SOURCE: Land Rover