Jada adds touch technology to toys for kids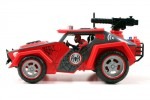 The power of touch is huge in the consumer electronics market right now. Many of the smartphones, computers, and monitors that are hitting the market feature touch sensitive technology. Touch sensitive pads are replacing buttons and other switches on many gadgets today. Touch technology is also making its move into the toy realm for kids.
Jada Toys has announced a new line of kids toys based on characters from the Marvel universe that feature touch technology. The line of toys is called Touch Tech and they feature large buttons that are easy for kids to activate. The Touch Tech also means that the buttons don't interfere with the looks or design of the toys either.
The new vehicles are from the Marvel Super Hero Squad brand, which is an animated show that debuted on Cartoon Network this month. Other classic Marvel characters are featured as well. Prices for the new Touch Tech toys range from $7.99 to $19.99 with 18 different varieties available. These should prove to be cool gifts for the holiday season.