'Jack' the piloted Audi A7 is headed to CES 2015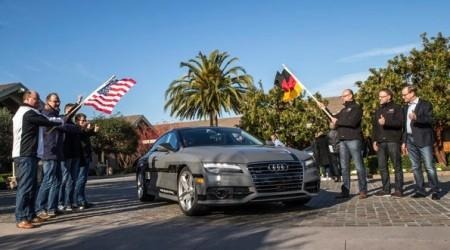 There are many ways to arrive at CES 2015. Many fly in, some caravan or carpool. Audi, though, they got a few lucky souls there in true style. Rather than give a few journalists sleek vehicles to cruise around in, Audi allowed some journalists a turn behind their new A7 piloted driving concept car. Starting in Silicon Valley (naturally) and ending in Las Vegas for CES, the 550 mile journey began today, and provides a real-world litmus test for Audi's piloted car concept.
The Audi A7 piloted car test drive is a joint effort by Volkswagen Electronics Research Laboratory and Volkswagen Group Research and Development.
Jack, as the car is affectionately known, can handle driving from zero to 70 miles per hour, and initiate lane changes and execute passing maneuvers. Before changing lanes, Jack scans surrounding cars for their speed, matches it, then proceeds with caution — just like you or I do.
Jack also accelerates and brakes when needed, independently.
The sensors found within Jack are still in testing, with many nearing production-ready levels. Adaptive cruise control (ACC) and the Audi side assist (ASA) watch the front and sides, while two mid-range sensors positioned at the front and rear point left and right for a true 360-degree field of view, digitally speaking.
Humans can still take control if needed, and Audi has a trained professional driver in the passenger seat at all times during the trip.
Audi is set to announce their "Next Chapter" at CES this week, so stay tuned to SlashGear to find out what's next from Audi with their connected car ambitions.
Source: Audi