Jabra unveils Arrow 100-99150000-60 Bluetooth headset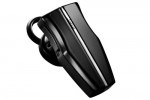 Jabra is one of the most popular names in Bluetooth headsets for mobile phones. The company has a complete line of devices to meet all sorts of styles and needs. Today the company has announced its latest Bluetooth headset called the Jabra Arrow 100-99150000-60. The headset has many features to make it perform well for drivers looking to make calls while driving.
Features of the device include digital signal processing noise reduction that is optimized for in car use. The device also features a charger and holder in one design that keeps the headset powered up longer. The charger/holder is wire free as well making it easy to put the headset in the older and remove it to take a call.
The device weighs nine grams and includes both an ear hook and a comfort eargel to keep the headset in place. Bluetooth 2.1 connectivity for the headset also features EDR and eSCO technology and the headset can adjust volume automatically. The headset can be paired with two devices at one time and the talk time is up to 4.5 hours with a standby time of up to 8 days. Pricing and availability are unknown at this time.