Jabra debuts the Cruiser hands free Bluetooth speaker phone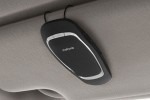 Hands free Bluetooth speakerphones are more appealing to me than Bluetooth headsets. I don't like to wear headsets and the speakerphone is more comfortable to use. Not all Bluetooth speaker phones are created equal, many of them have poor call quality. Jabra has announced a new Bluetooth hands free speakerphone called the Cruiser that promises good call quality.
The Cruiser clips to the visor of your car and uses dual mics to pick up your voice and cancel extraneous sounds like road noise. Another cool feature is that the device will announce who is calling you from your phone book if your phone supports the feature.
The Cruiser supports Bluetooth 2.1 A2DP and AVRCP for streaming music through the speaker. The device makes voice announcements for caller ID and pairing. A FM transmitter is built in as well to send audio to your car stereo. Two mobile phones can be connected at the same time and talk time is up to 14 hours with standby time of up to 13 days. A car charger is included with the device. The device will first hit Asia at about $129. Availability in the US isn't available at this time.