Jabra CRUISER2 in-car speakerphone gets official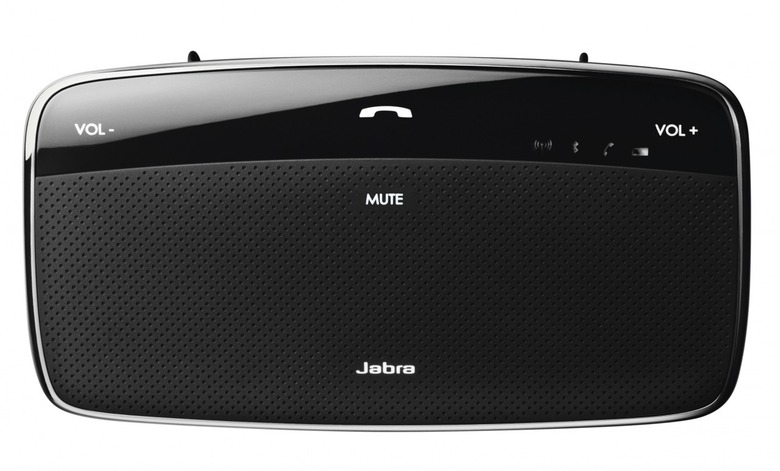 Jabra has outed its latest in-car speakerphone, the CRUISER2, a Bluetooth hands-free kit that announces incoming callers by whichever name you've programmed them into your address book with. The CRUISER2 uses Bluetooth 2.1+EDR and has dual-microphones for noise cancellation; it also packs an FM transmitter, for streaming audio to your car radio.
Jabra estimated up to 14hrs talktime or 13 days of standby from a single charge, and the CRUISER2 has voice alerts to remind you if it needs rejuicing. Two chargers are included, a microUSB for using your PC, and a universal charger that plugs into the lighter socket.
No word on pricing or availability at this stage.
Press Release:
JABRA EXTENDS LEADERSHIP IN HANDS-FREE COMMUNICATIONS WITH EXPANSION OF IN-CAR SPEAKERPHONE PORTFOLIO

Launches Jabra CRUISER2, Easy-to-Use In-Car Speakerphone

Featuring Industry-Leading Audio Quality

Las Vegas, NV – January 6, 2010– Jabra, a world leader in developing innovative hands-free solutions that are both easy-to-use and intuitive, today announced a new offering that extends the Company's leadership position in the in-car speakerphone market. From low priced offerings to feature-rich high end products, Jabra's award winning line of in-car speakerphones include products that fit the needs of all different types of users and allow drivers to keep both hands on the wheel and comply with hands-free driving regulations. The Jabra CRUISER2, the next generation of the critically acclaimed CRUISER in-car speakerphone, builds on Jabra's extensive experience developing easy-to-use products that enhance users' everyday lifestyle. The CRUISER2 is being shown for the first time at the Consumer Electronics Show (CES) in Las Vegas this week and will be available soon at select retailers around the country.

"The speakerphone category is a big focus for us and, as the market continues to grow year in and year out, more retailers and consumers become aware of it and realize the benefits of using a device," said Jonas Forsberg, General Manager North America, Mobile Division, GN Netcom, Inc. "We have conducted extensive consumer research to find out what features consumers care most about and the resounding results point to superior audio quality and ease of use, and that is exactly what are providing with the CRUISER2."

With the launch of the CRUISER2, Jabra is looking to provide a "no excuses" approach to hands-free driving in an effort to change consumer behavior. The CRUISER2 in-car speakerphone is compatible with a wide variety of third-party apps that allow users to listen to music or hear incoming text messages and emails, making communicating on the road safer and easier. The CRUISER2 has several features that make it easy-to-use and set it apart from other speakerphones including Caller ID – the speakerphone 'talks' to the user, telling you who is calling, exactly how you have the caller programmed into your mobile phone (for example, "Mom calling" or "Martin Work calling") – and Voice Announcements that provide audio guidance when setting-up the device and to clearly announce connectivity status and low battery levels.

In addition, the CRUISER2 features Noise Blackout™ technology that reduces ambient sound without compromising voice quality, the Jabra CRUISER2 features strategically placed microphones that are able to distinguish between background noise and the caller's voice, ensuring optimized audio without distracting noise from other passengers or outside traffic. With enhanced Multiuse™ technology that allows users to connect two devices – mobile phones, smartphones and MP3 players – to the in-car speakerphone at the same time allowing for two "active" connections as well as the ability to transmit and play MP3s from a mobile device to the car's stereo system via the speakerphone.

Key Specifications of the Jabra CRUISER2 in-car speakerphone include:

• Bluetooth 2.1Technology, including EDR and eSCO

• Great sound with dual microphones and a powerful speaker

• Easily connects to car radios via the FM transmitter to transmit music and calls to the car speakers

• Quickly and easily downloads a phonebook to tell you who is calling

• Large, easy to access volume controls, including a dedicated mute button

• Auto-pairing accompanied by audible pairing instructions for no-nonsense set-up

• Features answer/end, redial and voice dialing*

• Voice Guidance in 9 different languages**

• 2 Chargers are included – a micro USB cable for charging via a PC and a universal car charger that fits into the car lighter

• Talk time – up to 14 hours – and up to 13 days of standby time

For more information on Jabra's line of in-car speakerphones and other mobile products, visit http://www.buyjabra.com/US or follow us on Twitter at http://twitter.com/jabra_us. The Jabra CRUISER2 will be available soon at select retailers around the country.