Jabra Bluetooth Dog Tags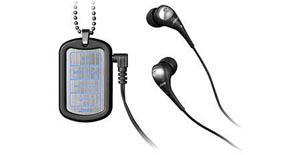 I know people are crazy about their Bluetooth headsets but let me tell you something, you look goofy. That's just my opinion, now, but it had to be said. Luckily, though, there are solutions.
Jabra has just released one such solution in the form of a Bluetooth Stereo Headset Dog Tag. You can't go wrong with a dog tag. They are hip, stylish and somewhat patriotic even. This one comes with 200 hours of standby time and is USB rechargeable.
You can buy one for $72. Take it from me, unless you are working the geek style, this is a more suitable way to go.
Jabra Releases Stylish Dog Tag Bluetooth Headset [via OhGizmo!]