Jabba the Hutt inflatable lawn decor launches for Halloween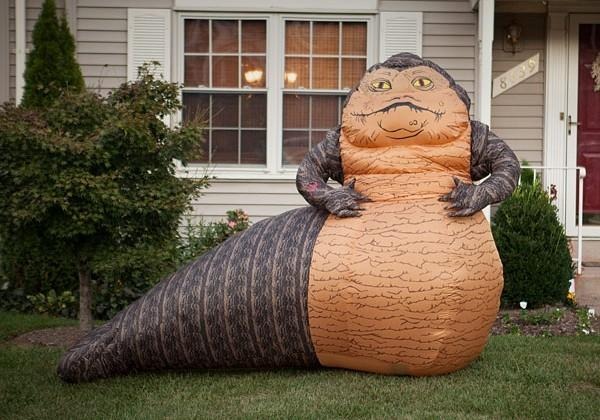 The month of Halloween is upon us, and with it comes lawn decorations — commonly the tacky, giant inflatable ones that flap around in the autumn wind. If you're into tacky inflatables, we're not judging — they're fun, especially when they come in the form of Jabba the Hutt from Star Wars. The inflatable is pretty big — it measures in at 6ft x 10ft, making it big enough to see from any direction.
The inflatable comes from ThinkGeek, home to all sorts of Star Wars items. As usual, it is officially licensed. The company is careful to point out that its a lawn ornament, not a costume — don't try to seal yourself inside it for the upcoming parties. The inflatable comes with two stakes to anchor it into the lawn.
There are tether ropes to tie it to the stakes, and an included blower fan for keeping it inflated. It is made from polyester and lights up — it isn't clear whether the lights are inside to illuminate it or included to shine on its exterior. The unit is available now and priced at $169.99 USD.
We've seen a ton of Star Wars gear over the years, and especially throughout 2015 as the next Star Wars movie nears. There's the R2-D2 items, for example — a desk vacuum, Bluetooth speaker, and tea pot. Joining it are others — Vader figurines, knife sets, wall decor, and more. Check out the timeline below!
SOURCE: ThinkGeek