iWork gets some much needed additions at Macworld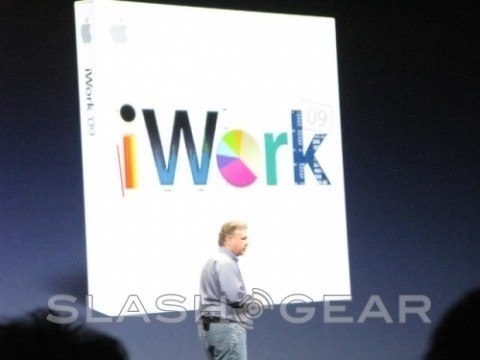 Phill moved from speaking about iLife 09 to talking about how the presentation what is being showed was created with iWork 09. One of the new additions will allow users to expand possibilities with effects some of which look like apple commercials.
New chart animations can pan in as if they were being moved from a crane. There is also a new Keynote app for the iPhone and iPod touch, connects wirelessly to control your Mac during a presentation. With options to be held vertically or horizontally you will get two different views; when held vertically it shows the slide; horizontally it shows two slides, and you can flick between them to transition.
Also added to iWork there is a new dynamic outline that you can start planning a document in straight away. With Pages you can better organize text and images with over 40 new themes.  In Numbers 09 they've been listening to what the customer wants and adding new features accordingly. Apple has added new table categories, plus 250 functions that can add mouseover info and colors. There are also new charts, with mixed charts now possible, with trend lines and multiple axis.
Apple is also readying a beta called iWork.com, which is a shared document service that will collaborate, review and edit documents for you online. You can use it to share documents with yourself, so if you travel you can access them elsewhere.