iTwinge iPhone keyboard set for November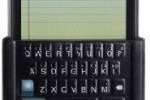 I have a love hate relationship with my iPhone. I love the device and its feature set for the most part, but I hate the AT&T network and all the issues with dropped calls. I also at times really hate the onscreen keyboard.
If you aren't a big fan of the virtual keyboard in your iPhone, a new physical keyboard called the iTwinge is set to debut in November. The keyboard is similar to the Blackberry keyboard in design and key layout.
The keyboard is part of a sleeve that slides onto the iPhone, which means that it blocks nearly half the screen of the iPhone. That will put a serious crimp in the usability of the iTwinge for many iPhone users. The keyboard is said to have a MSRP of $30 and improve typing speed by up to 40%. November 17 is the exact date pegged for the iTwinge to ship.