iTunes Match Beta 2 Hits Apple TV For Devs Only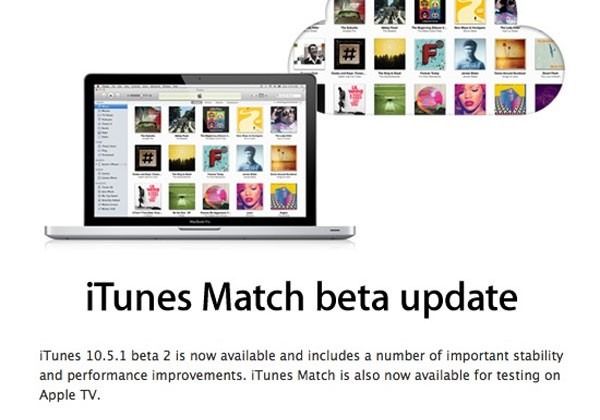 If you have been excited about iTunes Match since the button for the Match service showed up in iOS 5 earlier this month it is one-step closer to ready apparently. iTunes match has now been updated alongside a new beta 2 version of iTunes 10.5.1. For now, the beta version of iTunes and the updated Match service is still for devs only and adds in support for the Apple TV.
The latest beta update for iTunes 10.5.1 brings with it updates for stability and performance improvements according to the change log. Match was updated alongside the new beta for iTunes and to continue to use the iTunes Match service, the updated version of iTunes is required. One the updated to the beta version of iTunes for devs iTunes Match storage can be enabled on all Apple devices.
iTunes Match is the service that allows the uploading of your entire iTunes Music catalog to iCloud. Once on iCloud the music can be accessed from any device including the Apple TV, iPad, and iPhone. For now, there is no new information when iTunes match will go public. It was previously slated for October and that month has come and went already.
[via Cultofmac"]