iTunes HD Movie purchases: $19.99 to keep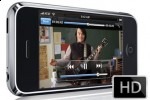 Apple have announced the addition of high-definition movie purchases to the iTunes store, building on the existing rental functionality.  Now, as well as renting new-release HD movies for $4.99, users will also be able to buy them for $19.99.  As of March 21st Twilight will be available to buy in HD, followed by Quantum of Solace on March 24th; there are already multiple titles in the back-catalog available to buy in HD.
Each purchase of an HD movie also comes with a standard-definition resolution file suitable for your iPod or iPhone.  According to Apple, HD films will hit the iTunes store within 30 days of their general retail release. 
It's a nice development for anyone who relies on iTunes for all their legitimate downloads, but $19.99 seems like a whole lot to pay.  No specific details as yet, but it seems fair to assume that the HD purchases will be 720p using H.264 compression, so unless they're tremendously reluctant to go outside or order online and wait for delivery, most people will get better resolution for their money by picking up the Blu-ray version.
Press Release:
Movie Fans Can Buy & Rent Films in High Definition on the iTunes Store

Box Office Favorites Including "Quantum of Solace" & "Twilight" Available in Stunning HD

Apple® today announced that iTunes® customers can purchase and rent box office favorites including "Quantum of Solace" and "Twilight" in stunning HD on the iTunes Store (www.itunes.com). Starting today, movie fans can purchase box office blockbusters for download in HD for $19.99 from iTunes, and films will be available as iTunes Movie Rentals in HD for $4.99 within 30 days after release. Customers can enjoy these films in HD on their Mac® or PC and on their widescreen TV with Apple TV®, as well as in standard definition on their iPhone™ or iPod® with video. The iTunes Store is the world's most popular online TV and movie store, with over 250 million TV episodes purchased and over 33 million movies purchased and rented.

"Movie fans are going to love being able to buy and rent films including 'Quantum of Solace' and 'Twilight' in stunning HD from the iTunes Store," said Eddy Cue, Apple's vice president of Internet Services. "Customers have made HD content on iTunes a hit, with over 50 percent of TV programming being purchased in HD when available."

Starting today, iTunes customers can pre-order "Quantum of Solace" which will be downloaded to their computer on March 24, and the smash hit thriller "Twilight" will be available on March 21. iTunes customers can purchase "Transporter 3," "Punisher: War Zone" and other select titles in HD today, and the action/comedy "The Spirit" will be available on April 14. The iTunes Movie Store will be adding more HD movies soon and customers can view the latest offerings at www.itunes.com/movies/hd.

The iTunes Store is the world's most popular online music, TV and movie store with a catalog of over 10 million songs, over 40,000 TV episodes, and over 5,000 movies including over 1,200 in stunning high definition video for rent. With Apple's legendary ease of use, pioneering features such as iTunes Movie Rentals, integrated podcasting support, the ability to turn previously purchased tracks into complete albums at a reduced price, and seamless integration with iPod and iPhone, the iTunes Store is the best way for Mac and PC users to legally discover, purchase and download music and video online.

Pricing & Availability

iTunes 8.1 for Mac and Windows includes the iTunes Store and is available as a free download from (www.itunes.com). Purchase and download of songs and videos from the iTunes Store requires a valid credit card from a financial institution in the country of purchase. Video availability varies by country. iTunes Movie Rentals are $2.99 (US) for library titles and $3.99 (US) for new releases, and high definition versions are priced just one dollar more with library titles at $3.99 (US) and new releases at $4.99 (US).