iTunes Festival channel hits Apple TV for Tuesday's US opening

Building up the excitement over the upcoming Tuesday event, Apple has just added the official iTunes Festival channel to Apple TV. The channel will whet viewers' appetites with information on the performers as well as the festival itself in preparation for the big event to be held during SxSW this week.
Held in London for the past years, Apple has finally decided to bring over its famed iTunes Festival to US shores. Apple has so far streamed 400 concerts from these festivals, involving big names in the music industry and garnering tens of millions of live stream viewers.
Last month, Apple made it known that it will finally be holding the iTunes Festival in the US. This will take place for five days during SxSW in Austin, Texas starting on Tuesday and will be streamed to iTune on the PC, Mac, as well as Apple's own devices. The iOS app debuted last week and now Apple is making the same experience available on Apple TV.
Viewers will be treated to biographical information about the performers as well as links to their iTunes Store pages. But more than that, the channel also gives access to the history of the festival, information on previous concerts and how to acquire them.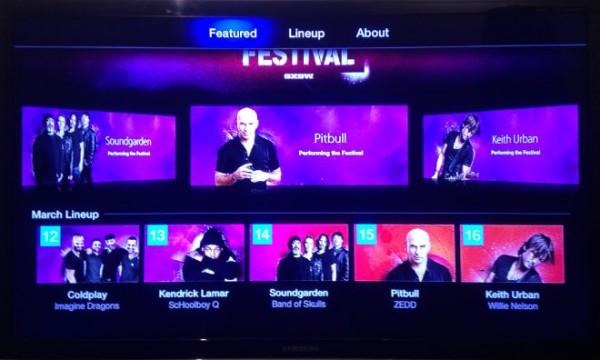 Confirmed artists include Coldplay, Imagine Dragons, and London Grammar on March 11, Pitbull and ZEDD, both on March 14, and Keith Urban and Willie Nelson on the 15th. The performances will be streamed live in high-definition streams. This first US iTunes Festival will most likely be available for purchase later, just like other festival concerts in the past.
VIA: Apple Insider