It's the Moto X's time to smile for the camera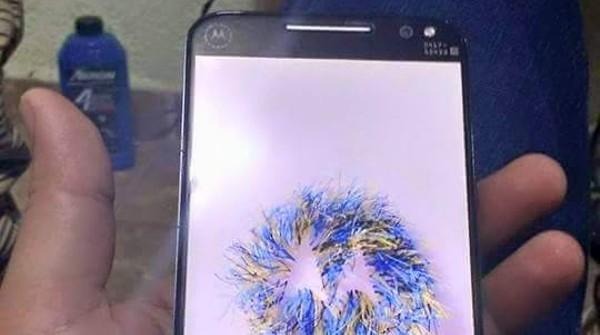 It's just a few days before Motorola reveals what it has in store for us in its press event next week, but so far it is the Moto G that has been the center of attraction of many leaks and rumors. Now, however, it's the Moto X flagship's turn to shine. Sort of. Two photos of what is allegedly the next gen Moto X has popped up on the Internet and one in particular is quite interesting. It reveals what looks like a front flash and what could be a fingerprint scanner.
Despite living in a selfie world, LED flash on the front side of smartphones are still a rarity. Even those that advertise being selfie-friendly usually just tout higher megapixel sensors. It's not easy to get flash right, especially at that proximity to a user's face. That said, smartphones are slowly starting to adopt this featrue and it looks like the Moto X might be next one to follow suit.
A bit more interesting is talk about a fingerprint scanner. While it might not be surprising for the Moto X to get one, the question has always been a matter of "where". The best candidate so far has been the conspicuous "crater" at the back of the smartphone. However, that concave area seems a tad too small and too deep to comfortably accommodate fingers. Now, however, there might be some indication that this sensor will be on the front of the device, specifically underneath the small Motorola logo at the upper left corner of its face. That's definitely a peculiar, not to mention inaccessible location.
The Moto X's time in the spotlight might be a bit brief. The 2015 Moto G is back to hog it, this time with details from now popular import/export site Zauba. The site's listing for the Moto G XT1550 more or less solves or confirms a piece of the puzzle. There will, indeed, be two variants of the Moto G, one with 1 GB of RAM and 8 GB of storage and another with twice as much.

Of course, these all come from unverified sources, so take them with a grain of salt. July 28 is just around the corner anyway, so it won't be a terribly long wait.
SOURCE: Peru Android, Zauba