It's Galaxy S9 launch day: Here are the best deals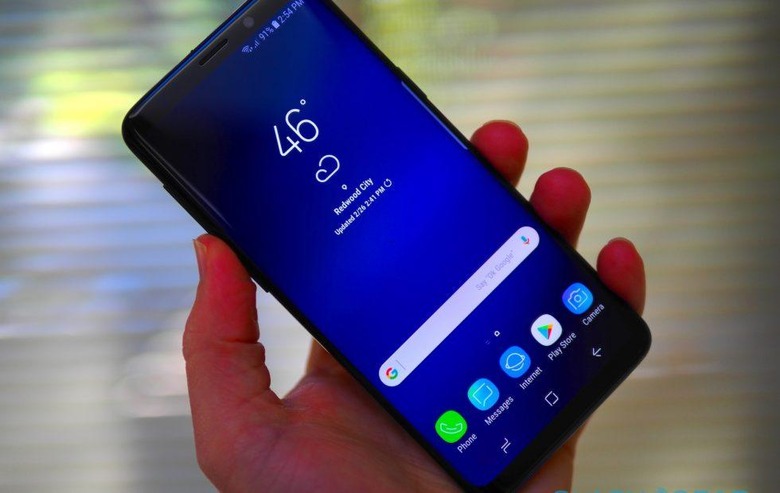 The Galaxy S9 is here at last, and with its status as a flagship device, it obviously costs a decent bit of cash. While the Galaxy S9 doesn't match something like the iPhone X in terms of pricing, the Galaxy S9+ does come close, which puts just how expensive this phone can be into perspective. Luckily for anyone who wants to make the Galaxy S9 or S9+ their daily driver, all four major carries in the US are running promotional offers on this new device.
Of course, if you prefer to buy without being tied to a carrier, you can pick up an unlocked Galaxy S9 directly from Samsung by paying full retail price. That may not be an option for a lot of folks, but if you don't like being tied to a two-year long payment plan, it's pretty much your only one – though these carries have some tempting deals in place, they only apply if you purchase your Galaxy S9 on a device installment plan. It should be noted, however, that Samsung now also offers financing on the phones it sells direct to consumers, which allows you to pay monthly and also pick your carrier.
Verizon
Over at Verizon, we see what is arguably the best deal if you're planning to buy multiple handsets. Assuming you buy one Galaxy S9 or S9+ on Verizon's device payment program, you can get another one at equal or lesser value "for free." There is, of course, some fine text here. For instance, one of those phones will need to be activated on a new line, and you'll actually have the cost of one phone refunded in 24 monthly bill credits.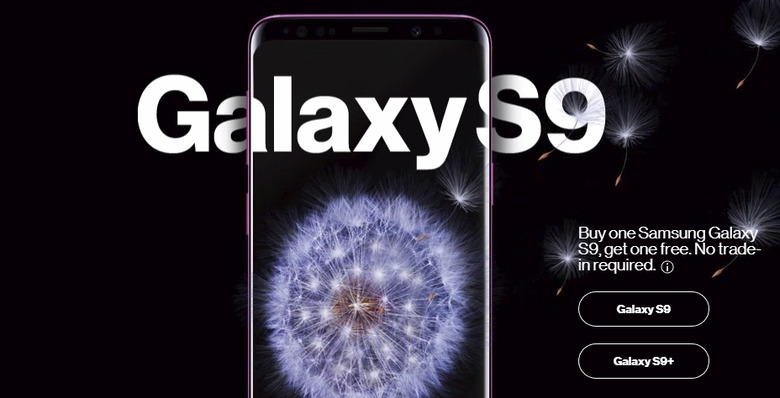 This means that even though you're technically paying for both devices, the bill credit you receive will wipe away the cost of one of those phones. A word of warning, however: Verizon's monthly bill credit tops out at $799.99, so if you buy a Galaxy S9 variant that's more expensive than that (like the Galaxy S9+), you're going to be paying the difference each month. Verizon's bill credit won't appear until you're one or two bill cycles into your device payment program, so keep that in mind as well.
AT&T
If you're only looking to get one phone, AT&T's deal might be for you. AT&T is offering 50% off a Galaxy S9 when you activate it on the carrier's NEXT installment agreement plan. Essentially, what this amounts to are bill credits totaling a maximum of $395 – which means a bill credit of $13.17 on 30 month plans and $16.46 on 24 month plans. While that works out to 50% off a standard Galaxy S9, you won't be saving quite that much each month on the Galaxy S9+.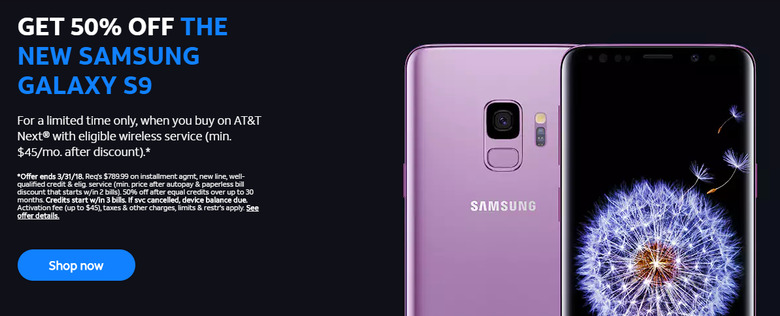 One additional caveat with AT&T's promotion is that your total monthly bill must still be at least $45 after we take this discount into account, along with the discounts for autopay and paperless billing. You'll also need to be activating a new line of service and you'll need to have "well-qualified credit" in order to take advantage of this.
T-Mobile
T-Mobile's promotion looks a lot like AT&T's, as it's offering 50% off the total cost of a Galaxy S9 (assuming once again, of course, that you make 24 installment payments). Total credits will amount to $360, which is less than what AT&T is offering, and you'll need to trade in your current device in order to qualify. Unlike AT&T's plan, however, this doesn't seem to require a new line of service, so that's something to keep in mind if you have no interest in adding new lines to your account.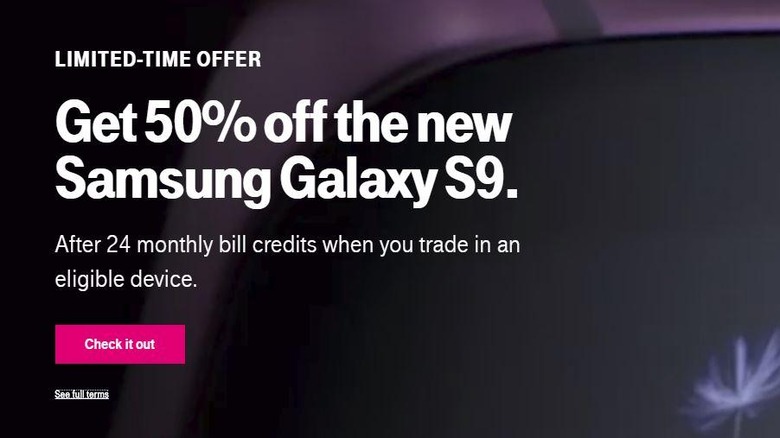 Sprint
Sprint, on the other hand, has a promo that looks more like Verizon's, offering a "free" Galaxy S9 when you purchase one. You'll need to be activating at least one new line, but assuming you do, you'll be given a $33 monthly credit after three billing cycles. That's enough to cover the monthly cost of a Galaxy S9 entirely, but not quite enough to cover the Galaxy S9+ – should you choose an S9+ as your discounted handset, you'll still be paying a total of $5 per month for it.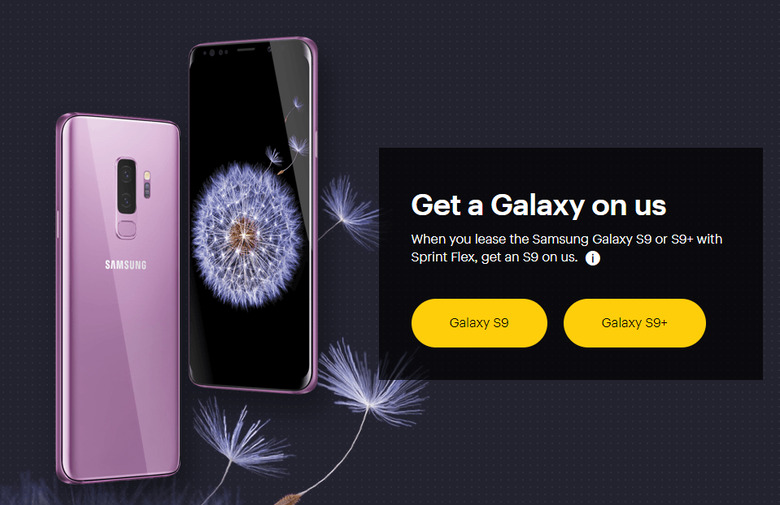 Wrap-Up
So, as you can see, each carrier wants to get you in the door with these Galaxy S9 promotions, but as always, there's a lot of fine print to go along with each one. The fact that the offers from Verizon, AT&T, and Sprint all require a new line of service to be added is probably going to be an issue for a lot of people, though if you've been looking to switch carriers, now might be a good time to do so. These promotions are probably going to be around for only a couple of weeks (though AT&T is the only carrier that's upfront with its end date of March 31), so if you're looking to take advantage of one, it's best to hop on it soon.