iTech i.VoicePRO 901 Bluetooth headset launches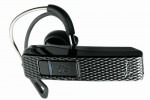 Bluetooth headsets tend to all be very similar with many of the same features and the only thing that sets many of them apart from each other is their price and the design. A new Bluetooth headset from iTech has launched called the i.VoicePRO 901 with some nice features at a good price.
The headset has dual mics to reduce noise and eliminate background sounds. It also uses noise filtering software for even better noise reduction. The dual mics are arranged with one against the cheek to capture the user's voice and the other is facing outward to pick up and eliminate other sounds in the room.
The headset comes in silver, black, and red colors and can pair with Bluetooth V2.1 devices without needing a PIN. The headset can connect to two phones at once and has call reject, auto relink, and other features. The headset will sell for $79.99 making it cheap for the feature set it offers.