Italy gets a new Ferrari red high-speed train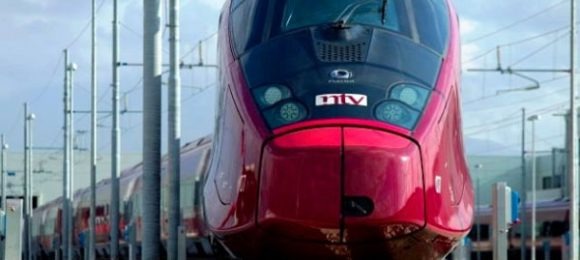 Commuters in Italy will have a new and very fast method of getting around the country that will open next week. A new high-speed railway is opening with a train called the Italo with a top speed of 186 mph. The train will connect Milan, Rome, and Naples and is billed as the most advanced train in Europe.
As impressive as a top speed of 186 mph is, it's not the fastest train out there with a Maglev Train in China capable of 268 mph. Naturally, the train is Ferrari red considering that Ferrari chairman Luca di Montezemoto is a major shareholder in the railway company. There will be 25 trains in the fleet manufactured by Alstom in France based on the AGV model.
The train has 11 cars and a capacity of 460 passengers in first class, business class, and economy class cars. All of cars will have leather seats, free Wi-Fi, and some will have screens in the ceiling. A ticket from Milan to Rome will cost about $60.
[via Cnet]