iStroll Kid iPad holder connects to a stroller letting kids communicate, play, and learn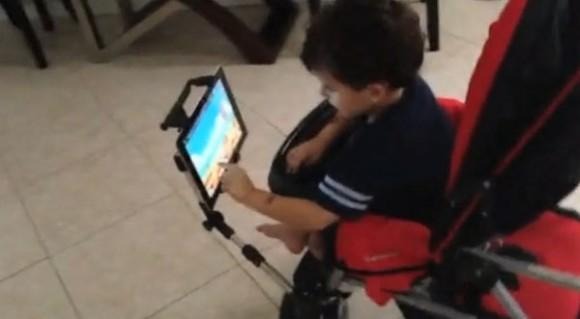 Children love technology, especially tablets such as the iPad. The huge number of educational and entertainment apps available for kids on the Apple iPad means that parents can give their kids an early start on learning all sorts of important information while the kid thinks they're playing games. The problem for parents is that children are notoriously hard on gadgets meaning some sort of secure iPad holder is often a requirement.
A new iPad holder called the iStroll Kid has turned up on Kickstarter seeking the funding to enter production. The iPad holder is specifically designed to attach to a child's stroller and securely hold the iPad while keeping it within the child's reach. The holder has a section that is designed to hold the iPad like any other iPad accessory.
That iPad holder is attached to a frame that clamps onto the tubing of the stroller. While some parents might like this simply to allow their children to play educational games or watch video while shopping or doing other things, this iPad holder can also be incredibly important to parents of special-needs children. A number of special-needs children take advantage of tablets like the iPad as their sole means of communication with parents.
The project is very new on Kickstarter and is seeking $10,000 enter production. The project has 41 days to go and at the time of writing has raised $88. The project will fund on March 13 if it hits its funding goal. A pledge of $35 or more will get you the iStroll Kid iPad holder and the designer expects to sell it for $49.99 when it goes into production. The estimated ship date for the product is March of 2013.
[via Kickstarter]