ISS Expedition 54 crew return to Earth in Kazakhstan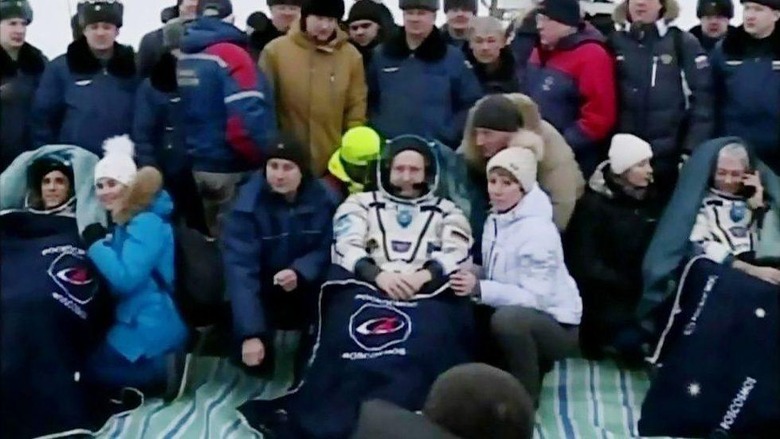 NASA has announced that three of the crew from ISS Expedition 54 have safely returned to Earth. The trio includes NASA astronauts Mark Vande Hei and Joe Acaba. The crew members landed on Tuesday after spending months in low-Earth orbit aboard the ISS performing research and spacewalks.
The third astronaut that returned to Earth with the two NASA crew members was cosmonaut Alexander Misurkin of the Roscosmos space agency. The three landed at 9:31 p.m. EST in Kazakhstan in the southeast town of Dzhezkazgan.
The time on station for the three marks the start of the first long-term increase in the crew size of the U.S. segment of the space station. The increase in crew allowed NASA to double the time dedicated to research and hit a record-setting week of research totaling more than 100 hours.
Among the research the astronauts performed was an investigation into fiber optic filament manufacturing in microgravity and work on improving implantable glucose biosensors. The research also involved the measuring of the Sun's energy input to Earth.
Vande Hei was in space for 168 days on his first mission and performed four spacewalks. Acaba performed one spacewalk and spent 306 days in space on three flights. Misurkin performed a record-setting spacewalk in February spending 8 hours and 13 minutes outside. During their mission, the crew members also welcomed four cargo spacecraft.
Cosmonaut Alexander Misurkin and astronauts Mark Vande Hei and Joe Acaba have returned to Earth after months of performing microgravity research and spacewalks in low-Earth orbit. https://t.co/Z6e7tTujPF pic.twitter.com/UPbrGOOEm5

— International Space Station (@Space_Station) February 28, 2018
SOURCE: NASA