Astronauts today completed the first spacewalk to repair the cooling system on the International Space Station. The spacewalk went off without a hitch. In fact, it was so efficient, the scheduled number of spacewalks in coming days may be pared down from three to two. The next spacewalk, originally scheduled for Monday, will take place Tuesday, Dec. 24.
The reason for the spacewalks originates in last week's realization that half of the station's cooling system was malfunctioning. A flow control valve inside one of the main coolant pumps mounted to the outside of the station stopped functioning correctly. This overheated the pump, triggering an automatic safety shutdown. Dozens of science experiments had to be stopped and many non-essential systems manually shut down to reduce the potential for excess heat inside the station.
The two NASA astronauts who performed the spacewalk today were Michael Hopkins and Rick Mastracchio. Operating the 58-foot-long robotic arm acting as a perch for the astronauts was Japanese astronaut Koichi Wakata, who performed his duties from inside the station. The team removed cables and coolant lines from the malfunctioning pump module, connected a "jumper box" to stop the liquid ammonia coolant from leaking, and went ahead with some future repairs ahead of schedule. They removed the 780-pound, double-refrigerator-sized pump, guided it to a stowage fixture on the exterior of the station, and secured it in place.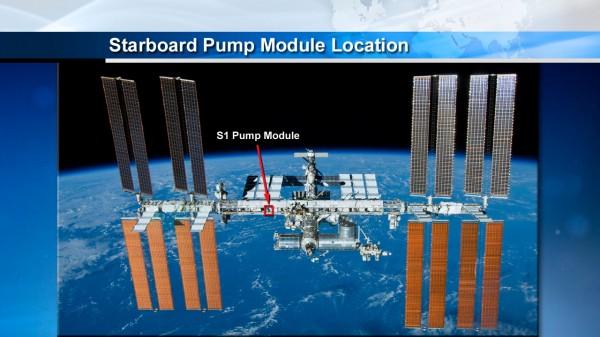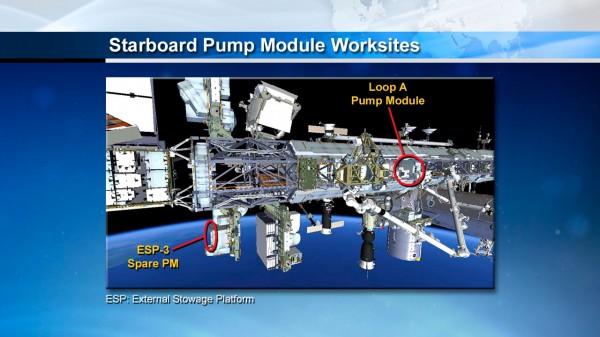 There were no overt problems with the space suits used in the spacewalk. In a July spacewalk at the ISS, the Italian astronaut Luca Parmitano almost drowned when moisture removal equipment inside the suit malfunctioned. The suits were inspected since then, but Hopkins and Mastracchio nonetheless donned snorkels inside their helmets in the event of an internal water leakage. The open tips of the snorkels could be orally directed to different areas of the interior of the helmets should the need arise.
Although no suit water leakage was detected this time around, NASA stated today it was investigating the possibility that "water may have entered [Mastracchio's] suit's sublimator inside the airlock" after the spacewalk had concluded. That's why Mission Control is pushing the second spacewalk back a day to Dec. 24. The third spacewalk is now scheduled to take place Dec. 25, but if Christmas Eve's spacewalk concludes by finishing all the necessary repairs, the third will be dropped. If the spacewalk does not conclude repairs, the third may take place as scheduled on the 25th or be pushed to the 26th.