iSleep Pillow makes your laptop comfortable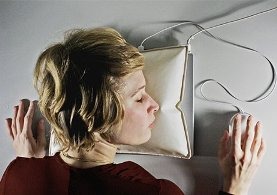 I think anyone that works on a computer for a living has worked late hours on occasion. I know I've slumped over the laptop until the wee hours in the morning more than once. However, wouldn't it be nice if you could catch some shut-eye while at your desk instead of having to get up and find a bed?
Designer Ivonne Dippman has you in mind, if this sounds like you. With the iSleep Pillow, you can now take a nap at your desk by turning your laptop into a comfy pillow.
The iSleep is intended to transform your hard laptop into a soft and squishy place to take a quick nap. The device connects to the exhaust vent on your laptop and inflates the pillow so you won't crush your laptop's screen from the outside in. The pillow also has an integrated speaker for playing music or an alarm sound for putting an end to your slumber. The bad news is the iSleep is just a concept at the moment. But hey, isn't every interesting gadget stuck in that phase?
[via Coolest Gadgets]