Isis locks up deals with Chase, Capital One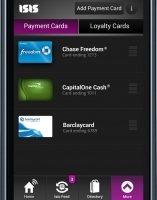 If you're able to take full advantage of Google Wallet right now, you're in the minority of a minority of a minority. When its rival platform Isis launches later this year, chances are much higher you'll be able to see all that Near Field Communication (NFC) payments have to offer. Isis announced today that it has secured deals with Chase, Capital One, and Barclaycard, meaning customers who have an account with any of those three powerhouses will be eligible to enroll, provided their phone meets the hardware requirements.
Isis, which is a joint venture between Verizon, AT&T, and T-Mobile, has also gained support from HTC, LG, Motorola, Samsung, and Sony, as well as Research in Motion. What this means is once Isis launches, if you buy an NFC-enabled phone from one of these manufacturers, and you have a credit or debit card from one of the financial institutions mentioned above, you will be able to use your phone to pay for purchases at the cash register.
That is admittedly a much larger group of people than Google Wallet serves – you need an NFC-capable phone, it must be powered by Sprint, and you must have a Citi credit card (Citibank debit cards don't count) or an eligible prepaid card. It's all a very confusing process to replace what most people don't have a problem with right now, but the future of NFC is promising. With Google Wallet, for example, users are able to log into their account and see virtual receipts for every purchase they've made.
That information is not available through banking or credit card websites. That's only the beginning. NFC can pave the way for brand new payment methods. Since the introduction of credit cards, there have only been three ways to pay for something at a point-of-sale location – use plastic, write a check, or pay cash. NFC opens the door for more options, and that's pretty interesting to say the least. Isis will launch this summer in the pilot cities of Salt Lake City, Utah and Austin, Texas.
[via GigaOM]