Is Apple beating Android in the US after all?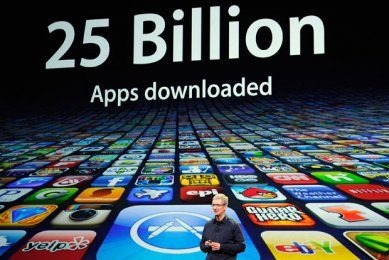 Perhaps the biggest rivalry in all the tech world is Apple and its iOS operating system versus Android. Recent reports having claimed that Android is leading the US market, that is being disputed by a report issued this week by the research firm NPD. According to the NPD report, Apple has 50% of the smartphone market for the first quarter of 2012 in the United States.
NPD did note that Android is the best-selling smartphone operating system for Q1 with 61% of the market. That left Apple with 29% of the market with iOS. There's some controversy with these numbers though because BusinessInsider reports NPD's numbers are contrary to what the carriers are reporting. AT&T reports that it activated 4.3 million iPhones adding up to 78% of all smartphones for the quarter.
Verizon announced that it activated 3.2 million iPhones making up 51% of all smartphones activated during Q1. Sprint also reports activating 1.5 million iPhones accounting for 60% of all smartphones it activated in Q1. The question is, how can NPD's numbers be so different from carrier reports? Taken all total that would give Apple 63% of the smartphone market according to carriers themselves. NPD says its numbers were based on a survey of 12,811 consumers asking what smartphones they purchased. NPD's Executive Director Ross Rubin says that crossing those survey results with actual reports from carriers isn't part of the methodology. It sounds like NPD is using bad data, what do you think?
Rubin told BusinessInsider, "NPD tracks sellthrough of new handsets. This is different than activations, which may include used or refurbished handsets. Also, NPD tracks only the consumer retail market and does not track enterprise sales."
[via BusinessInsider]