iRobot Scooba 450 uses a three-cycle wet floor scrubbing system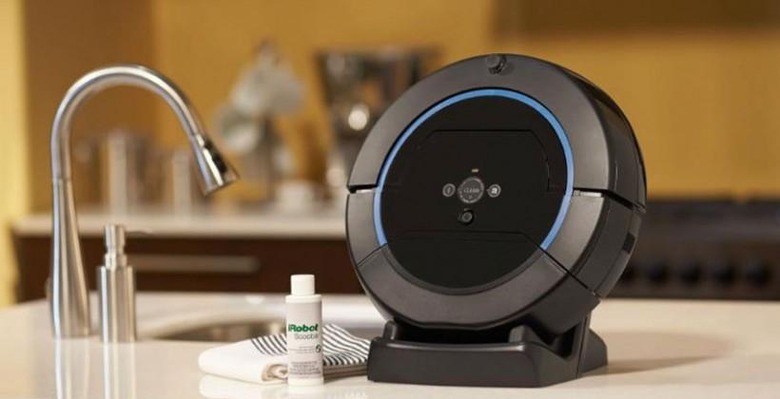 iRobot has been showing off its latest floor scrubbing robotic cleaning machine at CES 2014 called the Scooba 450. The new Scooba 450 floor scrubbing robot is available as of today in North America. iRobot says that the new Scooba 450 uses a new Scooba Three-Cycle Cleaning Process.
That cleaning process promises to make your floors cleaner and remove 99.3% of bacteria. The new cleaning process makes the Scooba 450 up to three times more effective than previous Scooba models. The Three-Cycle process automatically sweeps, pre-soaks, and scrubs the floors before finishing with a final squeegee of the floor to leave it as dry as possible.
The scrubbing brush inside the Scooba 450 spins at over 600 rpm. The bot also uses updated iAdapt Responsive Navigation Technology to help it optimize its floor care. The robot is made to be used anywhere you might use a mop and bucket.
iRobot also has an available Scooba DryDock Charging and Drying stand to reduce the time drying and charging the Scooba. The robot has two cleaning options with a 40-minute cycle for cleaning up to 300 square feet and a shorter 20-minute cycle for spaces up to 150 square feet. The Scooba 450 is available for $599.99 and the DryDock charging and Drying Stand is $79.99.
SOURCE: iRobot