iRobot Scooba 390 and 290 hands-on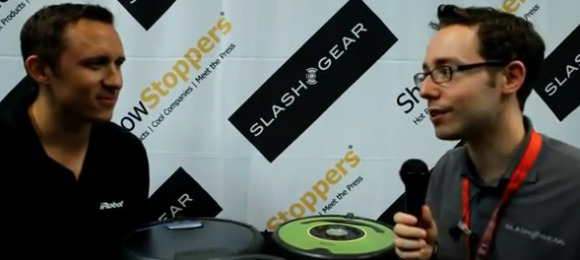 This week we've had the chance to catch up with the folks at iRobot who have let us in on several new robotic cleaning machines in their Scooba and Roomba lineups. In our interview with the group we started out with the iRobot Scooba 390, a device that works with a four-stage cleaning process for a scrub-tastic cleaning of your large flat floor – toss out your mops! We had a peek at the iRobot Scooba 290 next, made much tinier to make with the small bathroom cleaning – gotta get behind those porcelain thrones, after all.
The iRobot Scooba 390 uses a four-stage cleaning process that starts with preparation step, moves on to washing, follows up with a scub, and finishes it all off with some squeegee action. This unit is said by iRobot to remove up to 98% of your common household bacteria and is, in the end, the best item in your home to destroy your mop in a robot battle. You wont need a sweep with this device either, just set it down after you've added the necessary components inside (like clean water), and let it roll.
This interview filmed at Showstoppers during IFA 2012!
Next is the iRobot Scooba 230 which is, again, made much smaller to get in your smaller areas where the 390 never could. This unit is another floor washing robot that's made to take the place of your mop. It's able to clean around your toilet, under cabinets, and on tile, linoleum, or sealed hardwood floors. Like its bigger brother, the Scooba 230 uses a multi-stage cleaning process, this time just three required to take out 97% of common household bacteria. This time you DO have to sweep, mind you, but it's just so cute!
The Scooba 230 will cost you $279.99 from iRobot's online store, and the 390 will run you $499.99 USD – with free shipping, even! Also check the tail-end of the video out for the hero line of iRobot's Roomba line – getting better all the time! Then make sure to head to our iRobot tag portal to see the rest of our iRobot coverage from the past and keep on picking up robots for your home!