iRiver Story HD is first eReader with Google eBooks integrated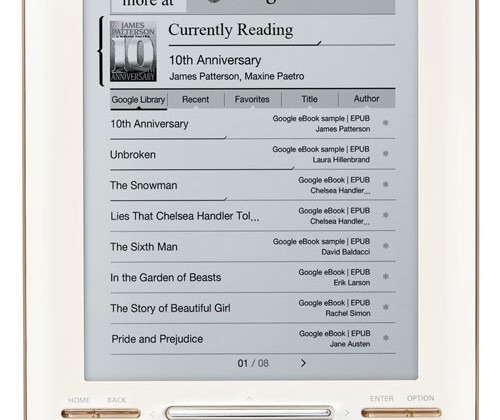 We have talked a lot about iRiver around here; the company has all sorts of gadgets and electronics. The last product from iRiver I mentioned was the cool P8 PMP last week that was heading to Russia first. Google has announced that iRiver will have the first eReader that has official Google eBooks integration onboard. The eReader is called the iRiver Story HD and will launch on July 17.
The reader will hit Target stores across the country and will be offered on Target.com for sale as well. The eReader will be able to buy books from Google eBooks over the are using WiFi connectivity. The Story HD will sell for $139.99 and has an e-ink screen with high resolution. There are about 3 million free books on Google eBooks that the user will be able to download right away.
The reader supports the Google Books APIs that makes it easy for publishers to offer users with devices supporting the Google service access to their entire catalog of digital cooks. The Story HD was unveiled for the first time at CES in January. It has a QWERTY keypad, 6-inch screen, WiFi and lots more. The screen has a resolution of 768 x 1024 making it the highest resolution reader in its class.