iRiver SPINN firmware 2.0 released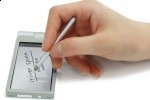 iRiver's SPINN media player has received a new firmware update, version 2.0, bringing with it increased GUI usability and a handful of new features.  Among the changes are a new memo pad feature, allowing handwritten notes and sketches, new picture handling tools, bigger album art displayed during track playback, and timed recording of FM and, where supported, DMB digital radio.
There are also new video playback options, as well as new searching tools, and Korean users of the SPINN will now be able to download games for their PMP.  These appear to be Flash titles, but there's no word on whether users outside of Korea will get access or whether general Flash games will now work.
The update is available to download now, from iRiver's Korean site.  It's a small, 3.9MB file, but should make a significant difference to the AMOLED touchscreen PMP's usability.  We'd be interested to hear anybody's experience with the new firmware; let us know how you get on in the comments.
[Thanks Dan!]