Iriver B30 PMP Gets Video Walkthrough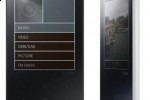 All alone in a darkened room: what better to do than run through the GUI of iriver's quietly-announced B30 PMP.  A discrete appearance on the iriver site back in late May, the B30 distinguishes itself with a T-DMB mobile TV tuner and DAB radio, paired with a 2.8-inch QVGA display.  Now we've a full video run-through of the UI and, as is generally the case with iriver's products, it's a beautifully put together system.
Video demo after the cut
As well as the digital TV and radio broadcasts, the B30 has either 4, 8 or 16GB of flash storage, together with a microSD card slot and a USB 2.0 connection to fill it all up.  The battery is good for up to 40hrs of audio or 5.5hrs of video, plus there's a user-selectable equalizer for tweaking audio quality.
As the video shows, all navigation is done via the touch-sensitive buttons on the front panel, since the B30 lacks a touchscreen.  Nonetheless it's a slick arrangement.  Unfortunately there's no sign of the B30 – which ranges from $151 to $231 in Korea – crossing over to Europe or the US.
[via Generation MP3]