iRig Keys Mini is a 25-key mini keyboard for smartphones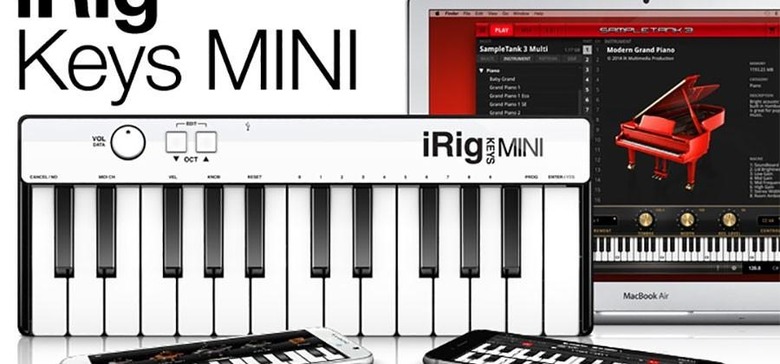 iRig has been around for a long time making different musical devices ranging from microphones to mobile guitar interfaces that will work with your PC, Mac, smartphone, and tablet. The company is back with another new device called the iRig Keys Mini that is a mini keyboard with 25 velocity sensitive keys.
iRig Keys Mini also has full MIDI edit features for a full playing experience in a small and compact enclosure that is easy to take with you on the go. The device is designed to work with just about any mobile gear you might be using including the iPhone, iPad, iPod touch, Android, Mac, and PC.
The universal compatibility is thanks in part to the connectivity options that the Keys Mini features with Lightning, micro USB, OTG, and USB connectivity. Folks that still have older Apple devices lying around that use the 30-pin connector can get a cable that works with those devices as well.
The iRig Keys Mini comes with a bunch of free software with a suite of apps for iOS and Android devices and software for Mac and PC users. Apple users can download the iGrand Piano app with piano sounds. The SampleTank app is also available with 23 different sounds. Android users also get iGrand Piano and iLectric Piano. iRig Keys Mini sells for $79.99 and is available now.