iRig Keys I/O Makes Your iPad A Mini Music Studio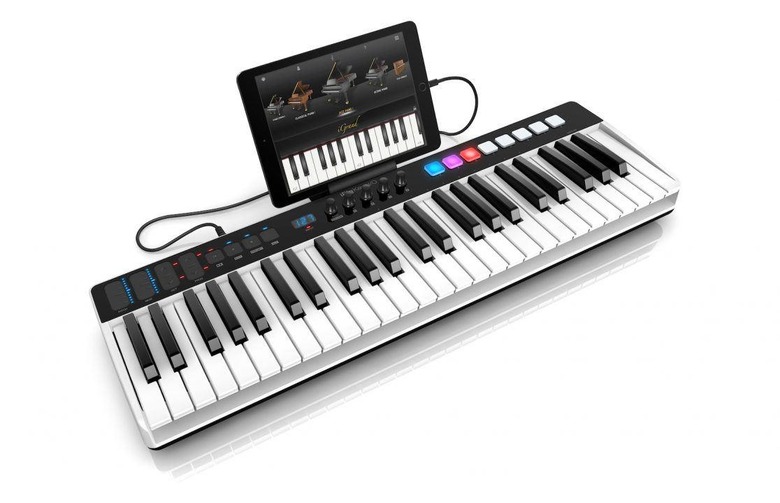 The options for making digital music with an iOS device on the move keep getting more affordable, with IK Multimedia weighing in with a new combo controller and audio interface. The iRig Keys I/O throws together a keyboard, velocity-sensitive pads, and touch-sensitive sliders along with various other physical controls, plus a 24-bit audio interface. It'll work both with your iPhone and iPad, or with a Mac or PC.
Two versions of the controller will be offered, one with 25 full-sized keys and the other with 49. Each gets eight multicolored LED velocity-sensitive pads, two fully-programmable touch control strips – that by default act as pitch and modulation controls, but which can of course be changed – and four touch-sensitive knobs on two banks. Transport and button-section controls are also included, and everything has capacity touch so that the relevant values are automatically shown with just a tap.
On the back, meanwhile, there's a bevy of ports. Inputs are handled by a combo port that works with 1/4-inch or XLR sources, running through a Class A preamp and supporting both line instruments and switchable 48V phantom power. A 1/4-inch balanced stereo output is included, together with a headphone jack.
If you're an iOS musician, you can plug in with the included Lightning cable and get both the various controls and the audio interface on your iPad and iPhone. That also means a 3.5mm headphone jack for the iPhone 7 and iPhone 7 Plus. Via USB, it'll work with software like Logic, GarageBand, and Ableton Live on PC and Mac; you'll get 24-bit, 96 kHz audio, and there's also USB bus power support.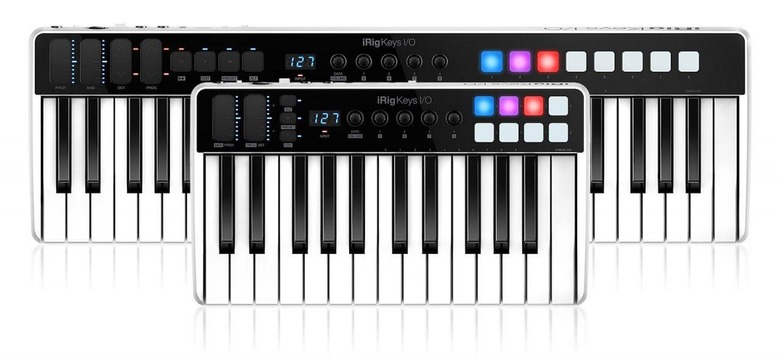 Alternatively, the iRig Keys I/O can be operated off four AA batteries, or via an optional power supply. The latter will also charge your iOS device too. IK Multimedia will bundle Ableton Live 9 Lite, SampleTank 3, T-RackS 4 Deluxe, and the Syntronik Pro-V vintage synth with both the 25 and 49 key models, along with SampleTank for iOS. The 49 key version adds in Miroslav Philharmonik 2 CE for PC and Mac, along with the iOS mobile edition.
Preorders kick off today, with the iRig Keys I/O 25 key edition priced at $199.99, while the 49 key edition is $299.99. Each comes with batteries, the Mini-DIN to USB and Mini-DIN to Lightning cables, and a device stand for iPhone and iPad. It'll start shipping in October.