iRig HD-A brings guitar recording to Samsung phones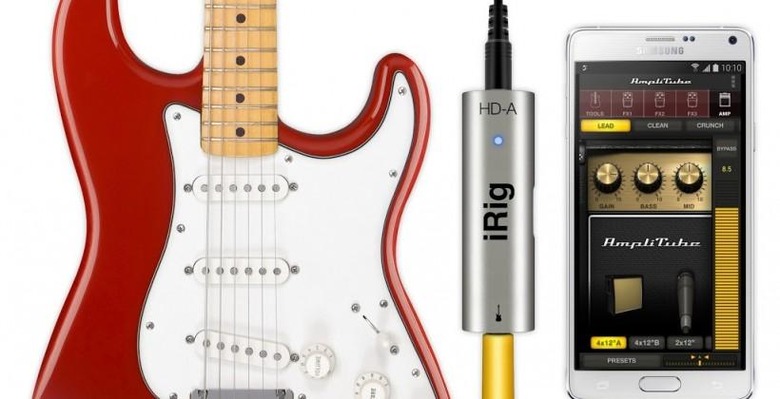 IK Multimedia has announced a new recording device and mobile app specifically made for Android users using certain Samsung devices: the iRig HD-A and the related AmpliTube app. With iRig HD-A, those using the Galaxy Note 4 and some other Samsung gadgets running Samsung Professional Audio can connect their guitar to their mobile and record audio using the AmpliTube app. The app includes a roster of different effects and features, depending on version, and includes the ability to set presets for easy usage.
The iRig HD-A is plug-and-play, with IK Multimedia bidding it as the first digital guitar interface available to Android users. There's a 24-bit/48kHz A/D converter, and a multicolor LED that shows the signal level (it can be regulated via an on-board gain potentiometer). There's also a USB cable for those who want to use it with a PC.
AmpliTube, meanwhile, is newly made for Samsung Professional Audio and brings with it up to 5 amps, 11 stompbox effects, and 2 microphones, opening up a bunch of different emulation options. Up to 15 presets can be utilized, and there's a digital tuner. The app is broken down into three varieties, each with a different number of effects: free, LE, and Full.
The iRig HD-A is available now through IK's website and some music retailers for $99.99 USD, while the related adapter is available for $39.99 USD and the optional Stomp guitar pedal is $69.99 USD. The app, meanwhile, is available via Samsung Apps for $19.99 USD, or as a $9.99 LE version and a free version.
SOURCE: IK Multimedia