iPod touch used for DIY robot's brain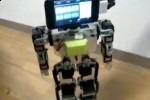 "If I only had a brain" sang the Scarecrow in The Wizard of Oz, and while we're not suggesting the film would've tied up one of its plotlines a whole lot quicker had Steve Jobs & co been around, using an iPod touch as a brain doesn't seem to have done this little Japanese robot any harm.  Named Robochan by its creator, it's a combination of the Kondo KHR-2HV robot kit and Apple's touchscreen PMP.
Video demo after the cut
The two communicate via a serial connection, and the iPod is used as not only the interface for controlling the robot but as its sensors and memory.  Movement routines can be "shown" to Robochan by moving its limbs around, and then replayed later on by tapping a record on the display.
If you're interested in trying it yourself, the Kondo robot kit is priced at around $1,300 online.  That includes the unassembled robot body, USB to serial cable and English programming software, though not the instructions to connect up your iPod touch.
[via The Raw Feed]